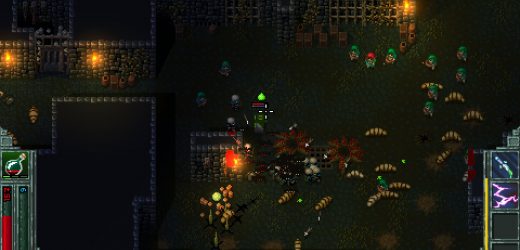 Source: Cashmoneys
Price: £9.29
Where To Get It: Steam
Sometimes, it seems, more is less. So it is with Heroes of Hammerwatch, sequel, to, funnily enough, Hammerwatch, a Gauntlet inspired action roguelite with co-op, secrets, bosses…
…And grind. So much grind. Bless, the devs have tried to make the early game more interesting, with monoliths, and portals, and gubbins that unlock as you go, but Heroes of Hammerwatch is both a game that takes a while (and many, many deaths) to get going, it's also a game where the further you get, the more it puts in your way, from more taxes, to more deaths.
I am, it must be said, getting rather sick of the first area. Even the knowledge that beating a boss unlocks a portal to the next is small consolation, because, either way, there's an endurance match. On the one hand, three levels an area, plus a boss (Who, your first time fighting it, with no upgrades to speak of, can best be described as the sound of a keyboard hitting a wall at great speed.) On the other, one level, plus several waves of enemies from the next area. Either way is painful, and death without first having sent money and ore up to town via a lift (not always available) means you've earned 75% of the experience, no money, and no ore. So, what's it like to try a new character, seeing as there are three unlockables and four base classes?
Well, money, ore, and town unlocks stay the same. That's the good news. The bad news is that each new character is a several thousand coin investment to get them to anywhere near the same level of survivability as the rest of them. 2,250, for example, for three potion charges. Another 1500 for level 3 weaponry, same again for armour. The good news is that each of the classes are different, from the Knight, who can block some projectiles in an arc, and relies on melee, to the Priest, with an area effect clickathon attack, some healing abilities, and a murderbeam that takes a little bit to get going. The bad news? Each one has to fight that boss, and then make that same boss/enemy rush choice, and I've not been able to do that before several runs in the first area, and achieving at least level 4 in experience. A fairly good early run will probably net you… Maybe 3K. Minus taxes.
As such, you might be able to see why I'm sick of the first area, and the music of everything before the second. There is, it must be said, a multiplayer option. Which adds more enemies, more hitpoints, and the like, so… No, you're not, generally speaking, going to have an easier time with friends.
If the progression were somewhat quicker, and I hadn't spent so much of my time in that first area, seeing the same traps, the same enemies, the same music, the same grind, I would perhaps be more charitable to Heroes of Hammerwatch. As it is, though, it can very easily be described as a slog, and a somewhat painful one at that.
The Mad Welshman really wants grind to be left in his childhood, where it belonged. Nuff said.