Source: Review Copy
Price: £15.49 (It's sort of a season pass deal, episode 1 is £4.79, episode 2 is £5.19)
Where to Get It: Steam
Content Warnings (taken from the official site) Realistic Gore; death; dead, dying and injured animals; children in peril; child death; claustrophobia; emetophobia/vomiting; disturbing imagery and situations
Mystery horror. It's a difficult thing to write, honestly. You've got to get the right balance between a sense of normality and… Something being off, before that something decides to come knocking.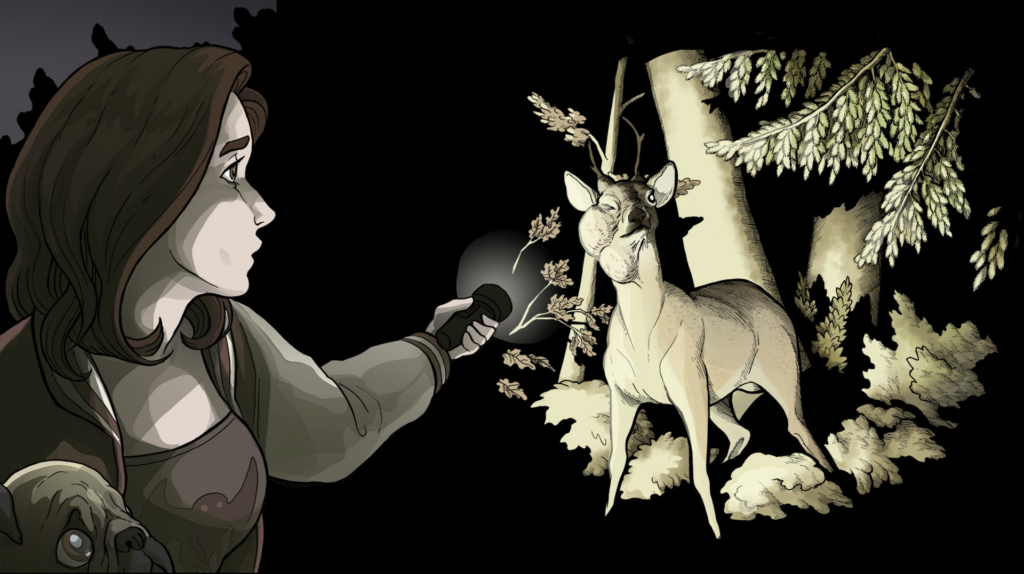 And so, Scarlet Hollow begins in a very simple way, well known to horror fans: An estranged family member, going to the family's run down, decrepit house in a run-down, slowly dying town for their aunt's funeral.
And it doesn't fuck around with the "something off", either. The guy on the bus is loud on the way there, and subtly unstable. The cat (if you can talk to animals, more on that in a sec) is a proud French asshole. There's a forbidden wing, a seriously tired and frumpy cousin, and yes, you are very much a stranger in a strange land.
And this is before things even kick off.
So, yes, Scarlet Hollow is a visual novel, episodic, and only episodes 1 and 2 are out right now. But buy it once, and when the rest of the episodes come out, bam, they're yours! And it's… A really cool experience, gently unsettling until it decides to go all out, lowering and spiking the tension well… And aesthetically, it's very on point.
Inks abound, crosshatching, all that good pen drawing shit I know and love, and solid colour choices, muted when it needs to be, loud when it needs to be. Musically, it's good, accessibility wise, it's good, and it's got… A lot of choice. Just to start off with, pronouns (YESSSS) and two special traits. For my first go through, I picked talking to animals and book smarts, and… Wow, I spent a lot of the first ep sounding like a pompous grad student, while also being dissed by Frou-Frou for butchering their native language. Ehehehe. So… Yeah, that, combined with hidden meters, meant I got a fair bit of choice paralysis, not helped by…
…Curse you, Black Tabby Games… You know about scroll-wheeling in Ren'py, and you cockblocked me. Then I shall have to save a heckuva lot…
Anyway, yes, queer horror, romance options, complicated relationships… If you like a visual novel with a lot going on, then Scarlet Hollow is really good. Oh, and obviously, if any of the content warnings are triggers for you, stay away, and if they aren't, keep an eye on the CW page for further warnings that may or may not occur.
No, dating the pug to get adorable doggy "kisses" is not an option. Sorry, go for Purrfect Date or Hatoful Boyfriend for that, and apologies.