Source: Cashmoneys
Price: £11.39 (£5.19 each for OST and Print-Ready Posters)
Where To Get It: Steam
Other Reviews: Release Review
At first, I was honestly a little unconvinced by Deck of Ashes. Grimdark world, of grimness and darkness and fire? Hrm. Relatively small deck you have to build up, and if you run out of cards, you lose health to regain some? Hrrrrrm. A limited amount of time in each area before you have to fight the boss? Hrrrrm? Health and cards burned stick with you, and you can only regain a limited amount of them, balancing cards regained versus healing? Aaargh.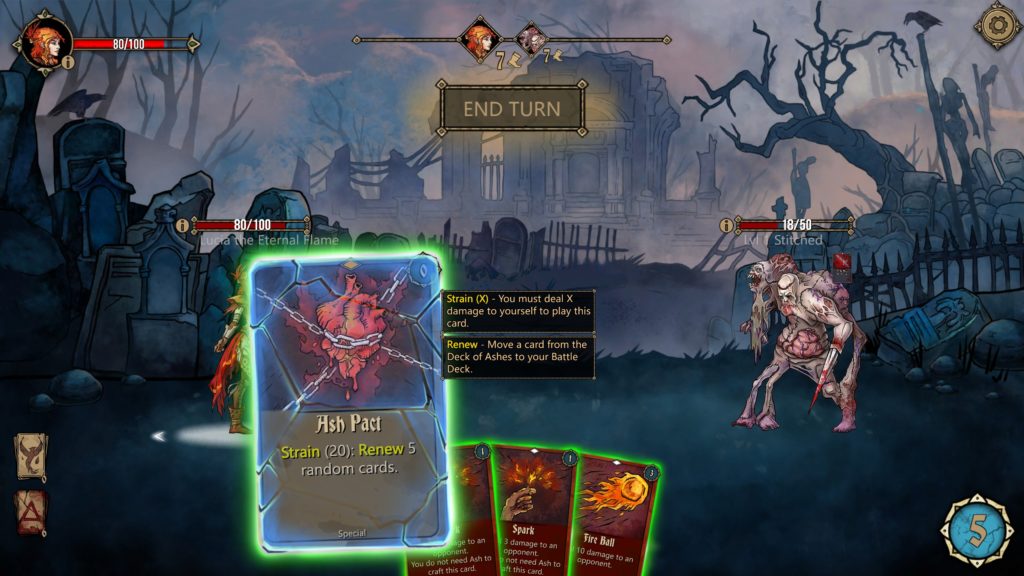 But then I gave it a serious chance after some unfortunate runs early on, and… While it looks intimidating, only the boss or elite fights take a fair chunk of time, and it's not nearly as bad as how it seems at first glance (Although yes, the difficulty does ramp up fairly quickly areawise, as you'd somewhat expect from these procgen card fighting titles.) And some of its ideas really play into its idea of a world fighting against you, and that the bosses are powerful, corrupted entities that, given a choice, you'd probably run from.
For example, bosses can, in the later stages of each area, just… Blow up an area, and if it's somewhere you wanted to go, well… Sorry. The resting is also more reasonable than it sounds, as quick fights rarely req uire more than 5 cards, which leaves you with 20 percent health to recover. Harder fights, obviously, require more than that, and it's that grind that leaves you worried, but health cards have been pretty good, and a per-turn limit of cards, obviously, helps a little too. Although it would be nice to fry an enemy in a single turn, it honestly works better this way.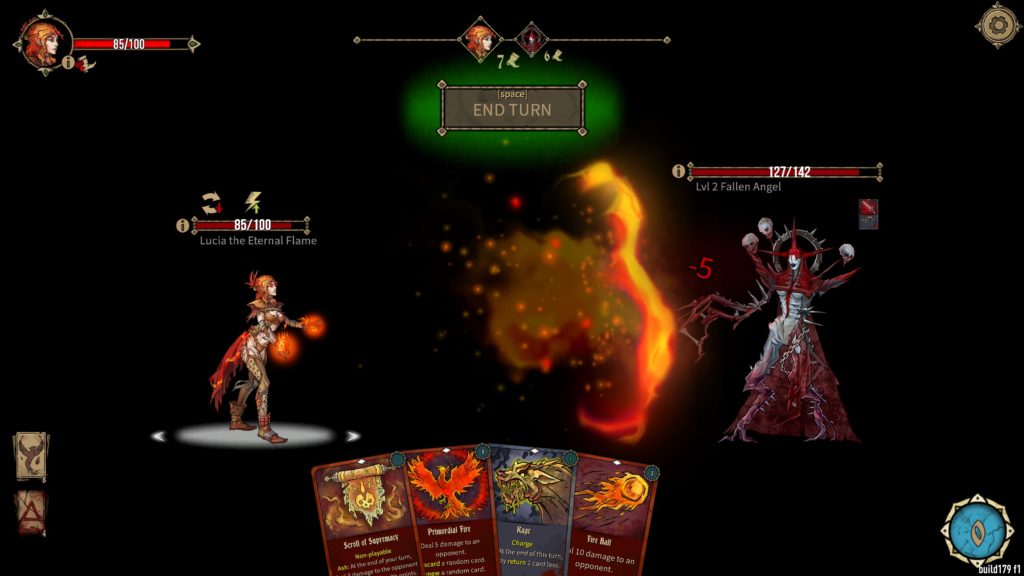 Aesthetically, well… It's grim, but not necessarily all that dark, saturated colours really making the enemy designs pop, with at least some impact when cards hit. Status symbols could maybe do with being a bit more clear, though. The maps are fine, the cards are clear, and the controls are all mouse based. Finally, the soundtrack is, as you'd expect, grim horns, violins… You know what you're in for with grimdark games, I'll definitely give them that.
While it does need some polish and balance, right now, Deck of Ashes is, as noted, less intimidating than it looks, and isn't a bad card battler, all told.
The Mad Welshman doesn't really like pacts. He doesn't like a devilish deal he can't wriggle out of villainously, you see.