Source: Cashmoneys
Price: £2.09
Where To Get It: Steam
Catgirls have served many purposes in fiction. As horrific huntresses. As comedy characters. And yes, sometimes, like real cats, they're horny. And so we come to this game, where the setup is that a retail saleswoman is gifted a catgirl by her auntie. Yes, catgirls are intelligent. Yes, they are pets. No, it doesn't engage with that, except to note that there's basically catgirl breeds, care information, communities… Oh, and catgirls in porn. I'm reasonably sure that was referenced. So that, and the fact it's a kinetic visual novel (No branching points, just sit back and enjoy the story), and that it's short (Depends on reading speed, but I clock it at sub 2 hours) are the major points out of the way.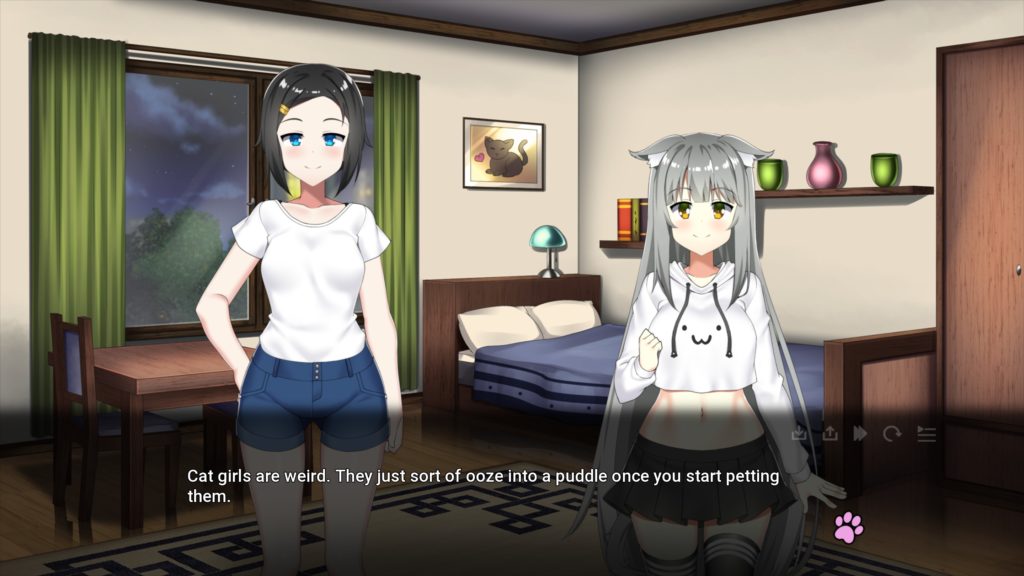 And, like many of the games I end up reviewing, it does what it says on the tin (of tuna.) It sets up the situation, establishes characters, and gets right on with it. Alice, the catgirl, is still not used to this whole "wear clothes, don't try to take fish out of the pan while it's frying, eat with a fork" thing their owners kept jabbering about, and Elena… Well, it's her first time owning any sort of pet, much less a catgirl, so she's anxious, and gets more anxious when…
…Well, catgirls are fine with water, and they have a different way of cleaning, and, as an ex cat owner, I should have seen that one coming from a mile off. In any case, she's a horny catgirl, Elena isn't quite sure how to deal (although the sex is good), and there, in capsule, is the story. Girl meets catgirl, girl teaches catgirl a little bit of human etiquette, girl and catgirl fuck.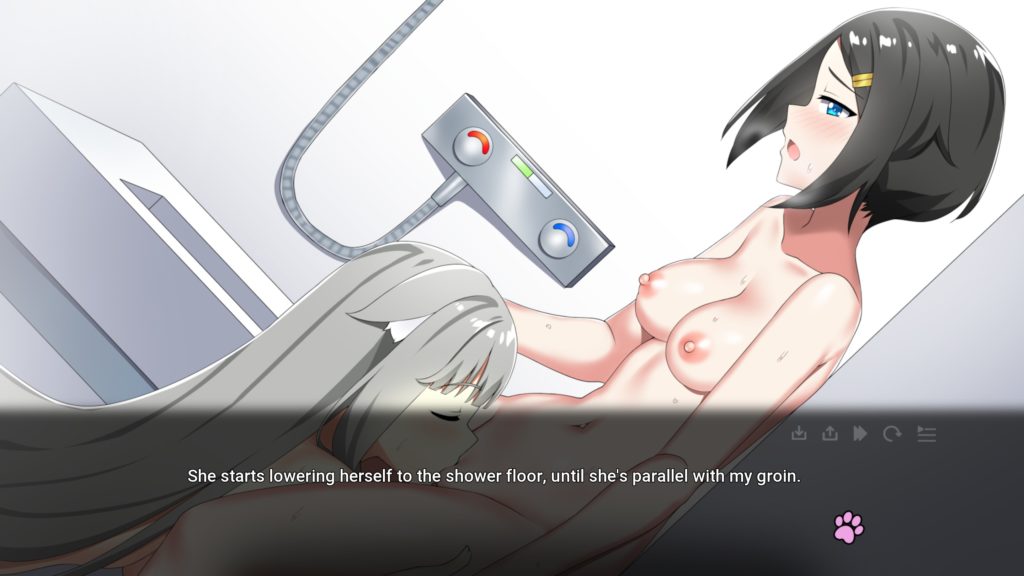 Of course, that's doing injustice to the character writing, because both the main characters, and the third, Elena's aunt (briefly turning up in the story) are likable, and both of them grow as the story progresses. Elena is an anxious woman who learns to loosen up a little, and Alice is bemused at human behaviour, and quite horny, who learns a little more of human etiquette, and to respect boundaries (well, by the end, anyway.) And, in among the couple of hot and heavy scenes, there's moments that made me grin or nod in sympathy.
I chuckled when Alice came out of the shower in a bra, because… That's clothes, right? And, when Elena's trying to explain things to Alice, I'm nodding in sympathy, because, let's face it, explaining why cooked food, a fork, and clothes are important would be a bit of a struggle to someone unfamiliar with the necessity (like, say, a cat that can talk, or, in this case, a catgirl), or that the people in the glass box can't be played with or batted, because they're actually someone else (please don't break the TV, Alice!)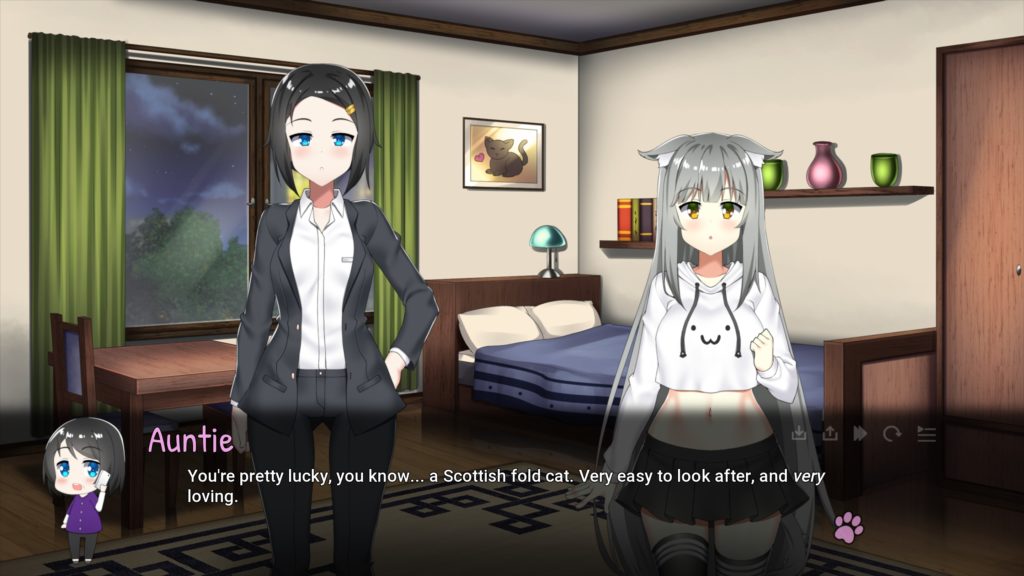 Aesthetically, I liked the character designs, and that Alice's design is noted as a breed of catgirl (the Scottish Fold), while the rest… Well, the environments are solid, and, while the music is somewhat generic feeling, it's not unpleasant.
So, all in all, this is a case of doing what it says on the tuna tin, a short, solid VN, with interesting and likable characters, some charming moments, and, of course, sex. If somebody's looking for a bite sized Yuri kinetic novel, you couldn't go far wrong with this one.
The Mad Welshman appreciates a bit of a tail. Also a bit of tail. He got both here.