Source: Cashmoneys
Price: £15.99
Where To Get It: Steam
Muckingham, a town where beautification committees are considered quaint, and where Health and Safety Inspectors dare not enter, for fear of their lives, has a new hero. The hero they need. The hero they may or may not deserve. The one who's going to clean up this town!
Oh, I'm sorry, was the title not clear enough that all that heroic guff was hyperbole, and that it is, in fact, a relaxing game about washing things with a high pressure hose, a variety of nozzles, and whatever background music you choose to put on, for the game deliberately has none? Because yes, it's a game about cleaning things, both big and small, with a high pressure hose, a variety of nozzles, and whatever background music you choose to put on.
It's pretty clever, actually. Because it's not only a game you can take at your own pace, nobody can actually say it isn't a challenge. That one tiny nook you missed, that's stopping you from that dopamine inducing ting of "This has been cleaned now!" That swearing as you realise that your quick sweep has just left dirt that you can't see, outside of your super-power of briefly turning dirt bright yellow, but is nonetheless all over the sodding place. Oh, and let us not forget trying to find that one support or timber out of 21 (people who've already bought the game know exactly what I mean) that has only mostly been cleaned.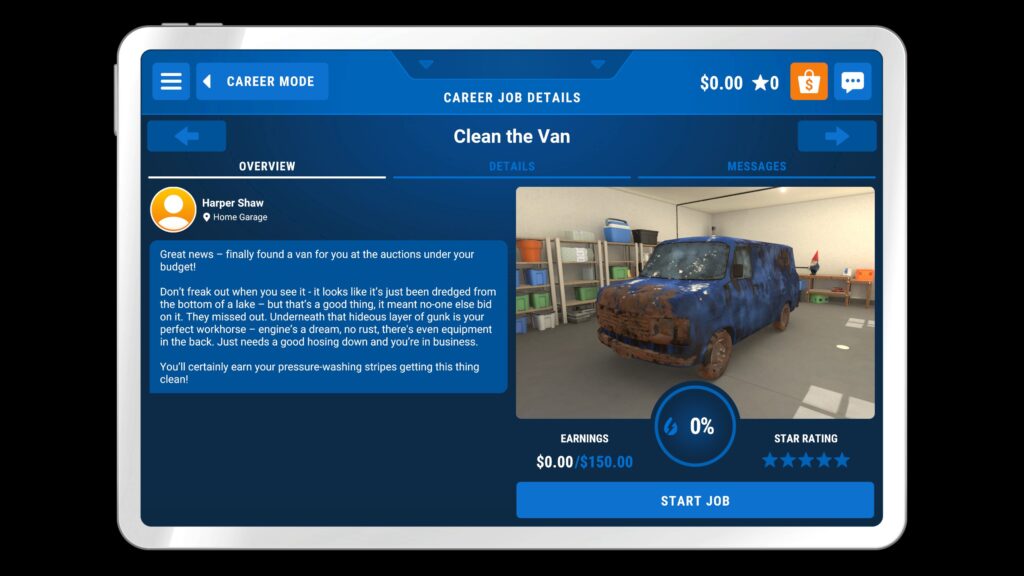 It's got it's challenges, that's for sure. But it's well designed, in that it'll give you a big one, maybe a couple of big ones… Then a smaller job. Then a few more big ones, maybe a medium one, smaller job, so on… It's well paced, in its career mode, and the writing of the characters who hire you is humorous indeed. From the old park keeper who doesn't understand why people are complaining about a little bit of muck (read: The whole fucking park), to the bakery folks who live in a rustic cottage, one Hansel and Gretel Hexenjager, who are definitely bakers and not anything else!
It's pretty accessible, with a right click toggle of the water to save your poor finger if you wish (although alas, your wrist is likely to suffer if you play for long periods), clear UX, the bright yellow of the dirt sight clearly contrasting with a good 99% of the surfaces (so even though some grime may not be visible at first glance, it will always be when you Tab to check), colour coding for your nozzles…
And, aesthetically, it's solid. Often bright, colourful locations, making a night and day transition from Ye Liveliest Awfulness to pristine, friendly locales, the sound of the pressure washer against various surfaces is relaxing, and fitting… It doesn't have music, it's true, but this is a deliberate decision so you can put your own on.
I like Powerwash Simulator already, a bunch, and I'm very unlikely to change this opinion. There's a lot of rinsey, bubbly bang for your buck if you're into nice, relaxing simulation games that aren't really simulations, per se, but are good enough that you can imagine you're having a nice, relaxing time drenching things at high pressure and watching the muck and grime and rust melt away…
…Ahhh, bliss. Even for a mucky pup like myself!
Oh, and the Multiplayer Beta dropped, so soon, you'll be able to powerwash with your friends, too, wheeee!