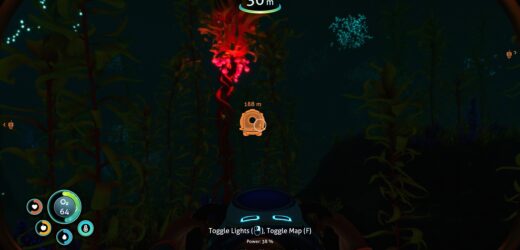 Source: Cashmoneys
Price: £15.49
Where To Get It: Steam
Other Reviews: Early Access 1
Ah, Subnautica. An oceanic first person survival game, a bit of a rarity as a subgenre, and damn, was it beautiful. Even though the ending had you leaving the planet, I never got there, because I loved the sea too much. Still, Below Zero, its sequel, has changed the planet, or at least the region… New meter, new creatures, new overarching threats… Looking forward to more of it, just as I have before…
But… Below Zero's new story… There are some beats that are the same from when I last looked at it, and there are certainly some interesting changes, but… I don't know, it doesn't grab me as much. Maybe that's due to the lines not being voiced yet, because, I freely admit, I loved Robin's voice (and her enthusiasm, in the old story, about the world she was researching.) Maybe it's that it has a similar start to the previous game, but with a little extra boneheadedness (Okay, going to find out what happened? Good. Flying close to a meteorite on descend? Nooooot so smart.) But… As a starting point, I am going to say that the story hasn't been grabbing me, so far, as much as it had previously.
ALAN remains interesting, though. And so, funnily enough, does the world of Subnautica, now frostier than its previous incarnation. And the threats, also, have changed. I was surprised by the brinefish my first time, and, holy shit, I almost died from the innocuous little bastards. You see… They freeze you. And naturally, if you're frozen underwater, and you're close to running out of oxygen… You're very… Very dead. Add to this the creatures I'd previously talked about, the Sea Monkeys (who steal shit from your hands), among quite a few others, and you've already got some new, interesting wrinkles in the world.
Ohhh, don't worry, players… Bombfish are still there, and they'll still do their best to kill you while you try to harvest that sweet, sweet sulfur.
Aesthetically, the game remains as pleasing as its previous incarnation, with the soundscape really immersing you, letting you know there are threats around, and otherwise so calming, the musical stings being relatively rare… And visually, the world is as intriguing as its previous incarnation.
Essentially, if you want to try oceanic survival games in a science fiction world, Subnautica and this sequel remain the top of their field, and, despite my lukewarm reception to the new story, I still heavily recommend this, and look forward to where it's going.
Still not leaving once I'm mostly done with the plot, Subnautica team. Can't make me!