Source: Cashmoneys
Price: £39.99 (£54.98 for Deluxe Edition, Season Pass £19.99, Extra Dispatch Missions 1 £4.99)
Where To Get It: Steam
No, that isn't a word salad up there in the title. Or, rather, it is, but it's a meaningful one. It is, indeed, Super Deformed (Bobblehead Gundams fighting, basically), It is part of the G Generation series (The first to hit the PC, in fact), and you do, indeed, Cross both Rays (in the beam weapon sense) and, occasionally, Rays (In the "That's their first name sense.") Simple, no?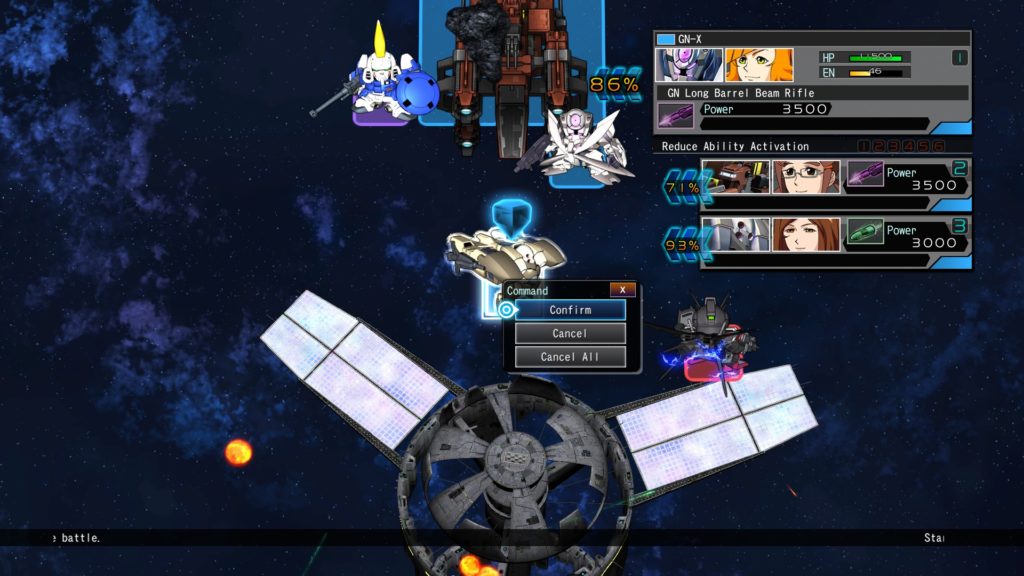 Well, that still doesn't really tell us anything, and it only tells fans of Super Robot Wars something when I say it's like that, so… It's a turn based strategy game, with some customisation, lots of units, 13 campaigns covering the Wing, Seed, 00, and Iron Blood Orphans series and some of their spinoffs, like Seed Astray, lots of characters… And a system that encourages a certain style of play… Namely, that if you weaken multiple enemies, a single Gundam could kill up to three of them at once. Oh, and you can also link your Gundams of the same team in a single, devastating multi-target attack.
Or you can fluff a 78% chance, and swear at the wasted energy, the resource that only really renews without docking back at base for Warships and Story Gundams, maybe taking a hit yourself into the bargain. UWAAAAAAGH! –Splode.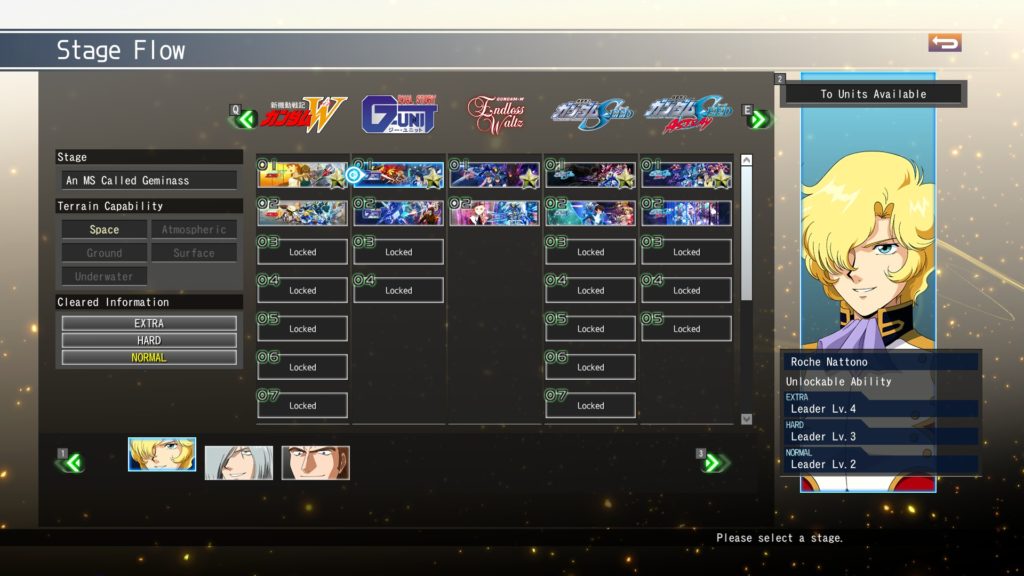 And I definitely don't feel guilty for this taking a not insignificant portion of my review budget, because, as mentioned… 13… Goddamn… Campaigns. At this very moment in time, 13 hours in, I've gotten 29% of the things to get (Which… Isn't actually as far along as I'd like. Especially since I haven't yet got my two favourites available in this game, the Gusion and the Hyakuri), and have finished most of… The first missions.
Yeah, be prepared for each of even the first missions to take… A while. And doing well, getting those sweet, sweet extra missions? Unlocks… A harder part to the mission, which will test your endurance and tactical skill. You get some neat unlocks though, whether through that, developing higher levelled mechs into different mechs, combining designs, adding abilities to your characters… More of which you can unlock… There's a lot to it.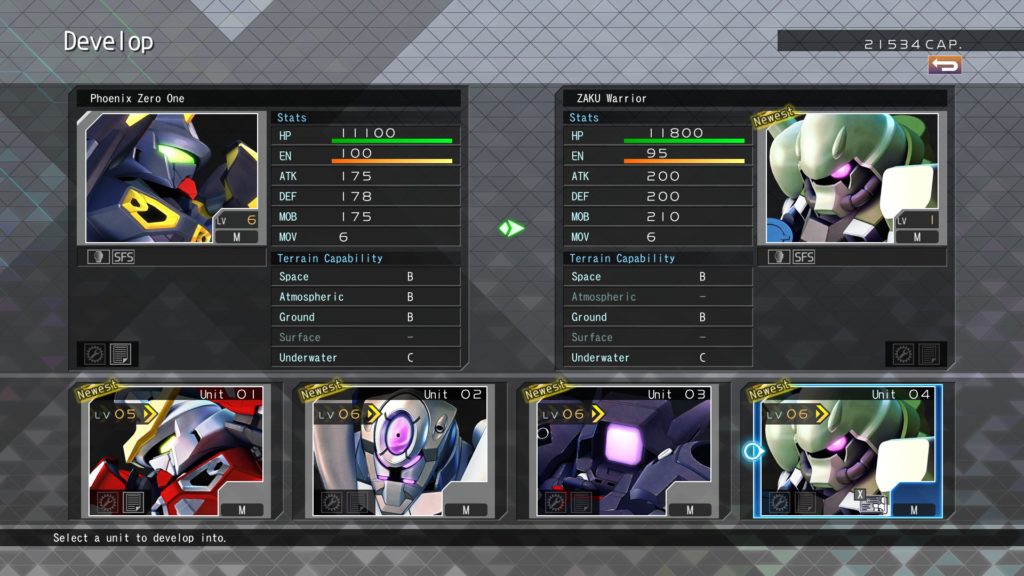 Aesthetically, well… Gundam has always been known for some good tunes, and some high drama in its voicework, and this game is no exception. A dramatic sting happens with every phase change (from you, to enemies, to different groups of enemies if there's more than one…) There are theme tunes, attract movies, the top down forced perspective stuff is mostly clear and alright, the battle animations are great. You can skip them once you've seen them, to save time, but… Don't skip animations just by weapon, as different units use those weapons in different ways. One Gundam will have a proper Beam Rifle, one will use two Beam Pistols, and, in a particularly silly animation, one will slap two Beam Pistols together to make a bigger Beam Pistol that they fire. It's very pretty.
Now, not all is roses. The UI text can get pretty damn small sometimes, which isn't great accessibility wise, there's some "Your mileage may vary" in the fact that the game is using moments from the series completely, so there's a lot of dialogue and narration between missions (You can skip this, but for those who don't like to, be warned, it goes on a while a lot of the time), and in some series, you're going to get severely hamstrung if your Sortie mechs are, for example, all using Beam weapons in IBO, where nearly everything resists Beam Weaponry.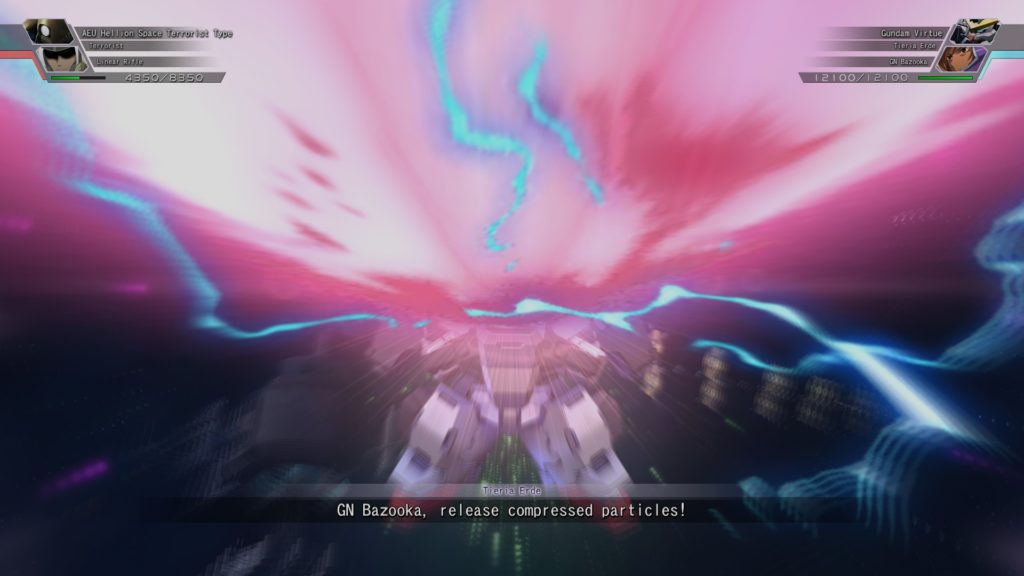 Say goodbye to that 4K damage, friendo, you're only doing 1.5K tops against a Graze. And you will feel shame at not being able to damage what's effectively a mook with ease. On the other hand, IBO units do pretty well in Beam heavy series. Muahahaha. Finally, yes, there is grind. Some units can only be gained by either maxing out meters, or developing them from other mechs, which requires levelling them up. Thankfully, this grind can be lessened by doing "Dispatch" missions, which take your group out of play for a certain time (From 2 and a half to 12 hours), but… You don't actually have to be playing the game to run that timer down. Actually a pretty reasonable way of handling it!
But, here's the thing: Overall? Hot damn is this value for money, with some moderately alright tutorialisation, to the point where you'll very quickly get some tricks to shoot down units by the score, even Warships, and look cool doing it. For Gundam fans, well, hey, you've got a Gundam SD game you can play on PC (Super Robot Wars when, Bamco?), and for turn based tactical strategy games, you've got something you can sink your teeth into. Definite recommend here!
The Mad Welshman notes with some amusement that his sortie team is now several levels higher than… Well, anything except major story Gundams now.