Source: Cashmoneys
Price: £11.39
Where To Get It: Steam
Other Reviews: Early Access
Even grudgingly admitting that Lovecraft's Untold Stories has improved in some aspects, this is one that remains poorly paced, difficulty spikey, and… Well, not drawing me into its world, because its world isn't all that interesting in the first place.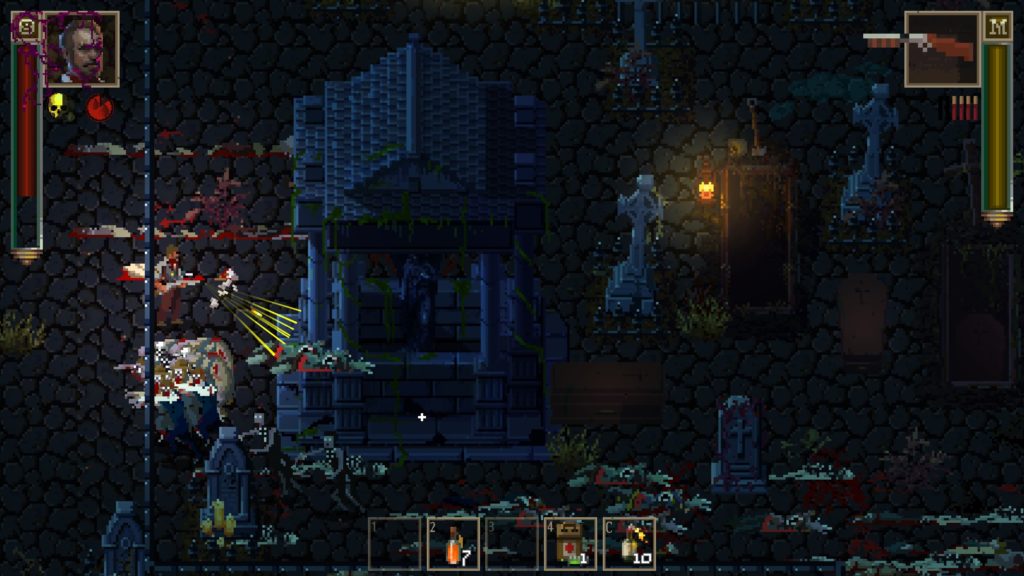 Okay, let's back up a bit. A Lovecraftian twin-stick shooter with RPG elements (keys, inventory, special items, events, and, at least once a level, puzzles), Lovecraft's Untold Stories starts you as a private dick who has been called upon by Raymond Legrasse (The inspector who formed a cameo in The Call of Cthulhu, the "iconic" Lovecraft tale.) From there, things rapidly get weird, from Lovecraft and the King In Yellow as shopkeepers, to a Yithian sanctum as your home base…
…Honestly, I can't really carry on with that sentence without getting into why it feels wrong to say all that. Lovecraft's Untold Stories is Lovecraftian in the same way that Ready Player One is Cyberpunk, or an Olde English Bar in America is, in fact, Olde English. Oh, it's got surface elements, to be sure. Star Spawn and Mi-Go and what I'd finally worked out were meant to maybe be Colours from Space. But they fill much the same space as zombies and cultists with machine-guns: As things you shoot to leave the room. Similarly, books are not gateways to knowledge that man was not meant to wot, but one of the two forms of currency in the game (The other being money, most often obtained by collecting treasure.) Elements of horror fiction, distilled into enemies and powerups. Ye Olde English Yawn.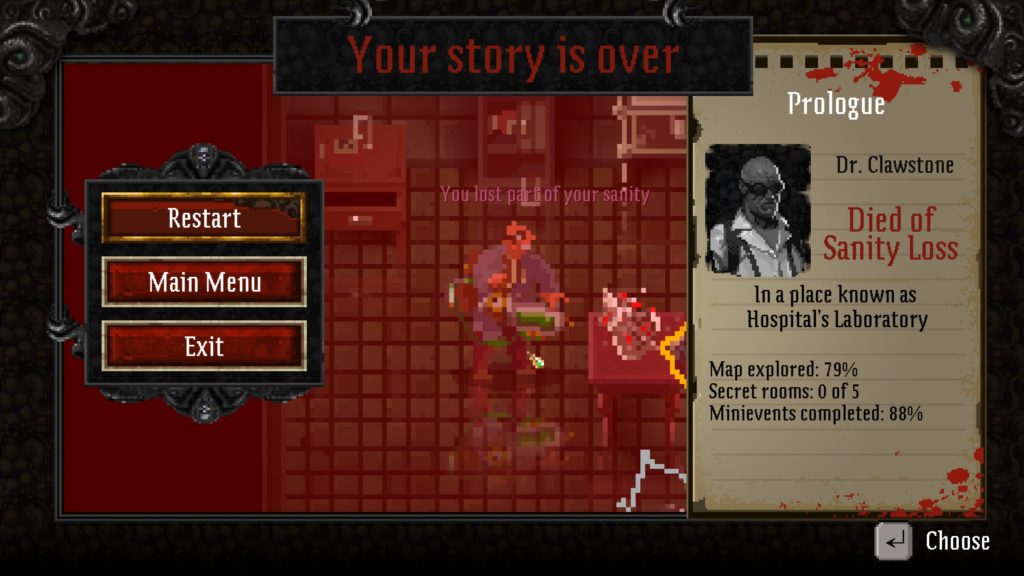 "But come now, that's not terribly fair. What about that old chestnut about going mad from said knowledge?" Ah, yes. The thing with little to no seeming effect on play beyond being a second, less readable health bar that partly obscures the actual health bar. If lots of purple gunk over the top left, maybe eat a bar of chocolate or three, and avoid pretty much any interactable event you don't know the "safe" interaction with (At the cost of not finding secrets and earning less Information currency.) Bam, the unknowable has become the known.
"Okay, okay, so it's not very Lovecraftian. What about the twin-stick elements?" Well, those have slightly improved, in that now you have mouse-aim. The first area has also become less of a pain in the ass, with seemingly none of those murderous (and inexplicable) cultist gun turrets to be seen, only cultists and gribbleys. This, of course, is assuming you're playing as the Investigator, as there are other unlockable characters, unlocked by reaching the right area, and solving a certain puzzle.
Each one has their own starting area, and their defensive abilities take different forms. The investigator has a dodge roll and explosives. Whoop. The scientist has a high-explosive shot that is as likely to impact something you weren't sure was an obstacle (or a rushing enemy) and kill you as not, and a defensive shield. I haven't unlocked the rest because… Well, when a game feels more like a battle of attrition than a tense conflict in which worlds are at stake, and madness lurks around every corner, you know something's gone wrong.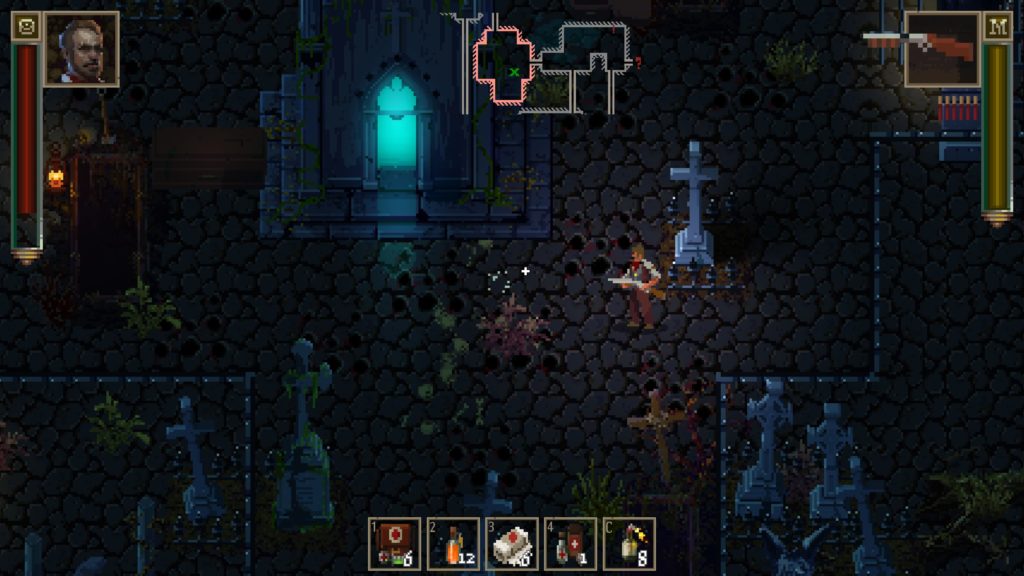 Is it the darkness hiding increasingly arbitrary damage/status traps? Is it Chapter 3's obsession with "Hunt the guy running away, otherwise you'll never clear the room"? Is it that the puzzles either feel like arbitrary key/item hunts or things that don't make sense even in the context? Yes, yes, yes, it's all of these things, plus the endless… Interminable "spooky" rendition of "Three Blind Mice." No, really, it's main motif is the three keys of a children's song.
It isn't the only music in the game, and the intro narration is very nice, as is the pixel art. But the pixel-art is often obscured by darkness, and stylistic goodness is more than counterbalanced by what a tedious slog this feels.
The Mad Welshman has seen many things. Perhaps too many. Over many games, the monicker has become more and more accurate. IA! IA! D'Signu B'et'a!