Source: Cashmoneys
Price: $4 (Approximately £3 at time of writing)
Where To Get It: Itch.IO
Content Warning: There is heterosexual sex between a deerman and a tanuki. That's literally it, and it was good.
Sometimes, you wake up, and you really need a cup of tea. But what can you do at silly oh clock in the morning, when none of the shops are open, and you don't have any left in the cupboard? Well, it depends on where you are, because a fair few things that are not tea-leaves can, in fact, be made into a tea-like substance (A tisane. There, we learned a new word!)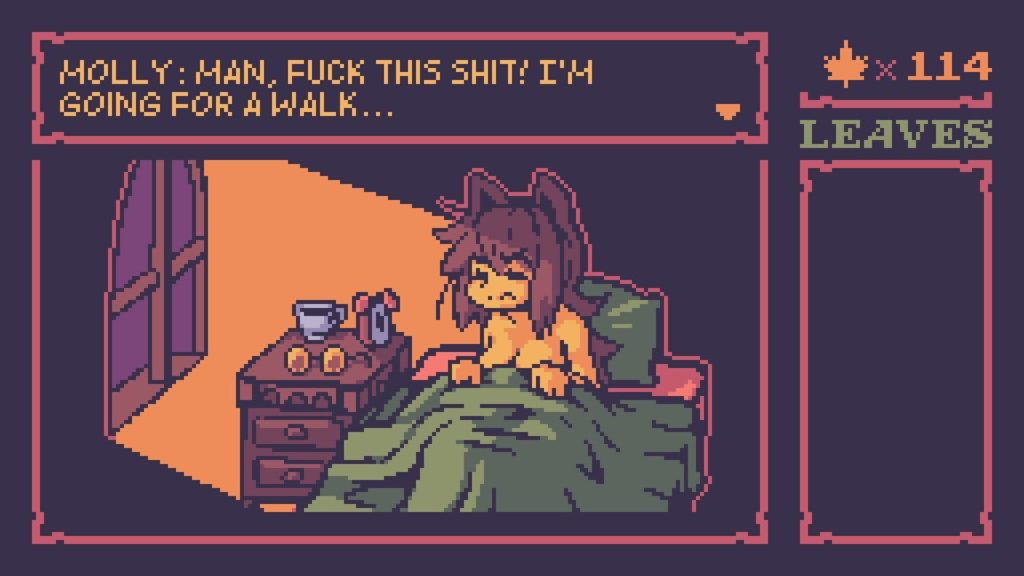 And so, in the town of Miost, a Tanuki wakes up grumpily in the middle of the night, and decides to go for a walk.
So, let's get a couple of things out of the way right now: This was a game made for LewdJam, one of the NSFW jams on Itch.IO, specifically LewdJam 3. It is short, taking no more than 20 to 30 minutes to complete. And it has precisely one NSFW scene. So… Why include it at all, you may be thinking?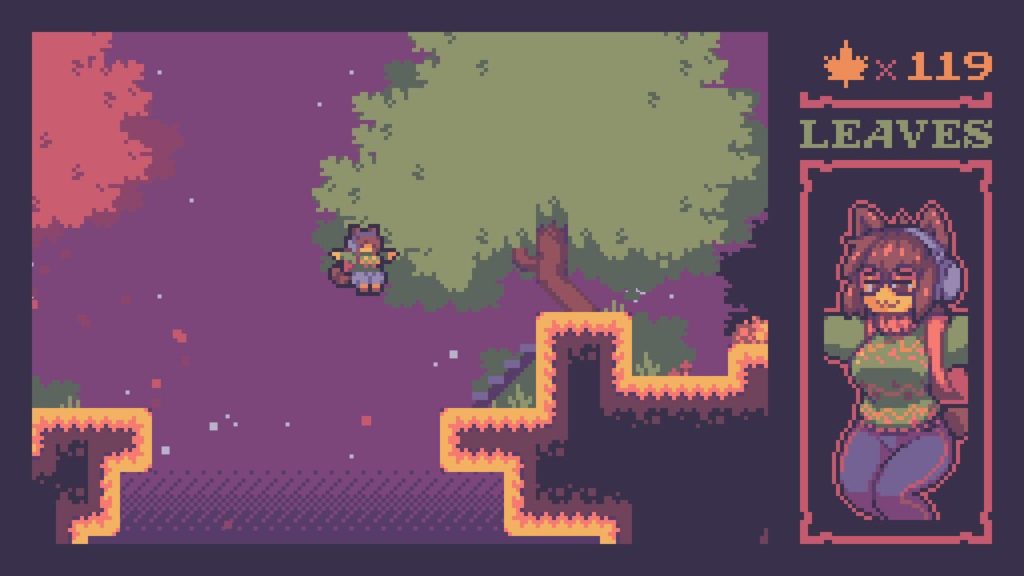 It's really simple: Because it's fun, tight, pretty accessible, and doesn't outstay its welcome. It has precisely three controls. Left, right, and Z to both jump and horizontally glide. That's all you need. It has 36 leaves in the level, but you only need 24 of them (Easy enough, although some of them are going to be a bane to 100% leaf runners), falling off the map is a brief pause, not losing you progress, and the game is checkpointed well. Unlike some games I review, it definitely wants to be completed, and, since leaves carry over, you can just play it to relax and enjoy a humorous lewd scene. Cool.
And, furthermore, it's a treat aesthetically. Once you know what a bush looks like, they're easy to spot, while the pixel art is pleasant. Equally pleasant is the relaxing, bright tune created for the game, which loops as you go through the world (And the sexytime tune at the end… Such relaxed dickings!) And it all fits the narrative of a pleasant walk in the woods.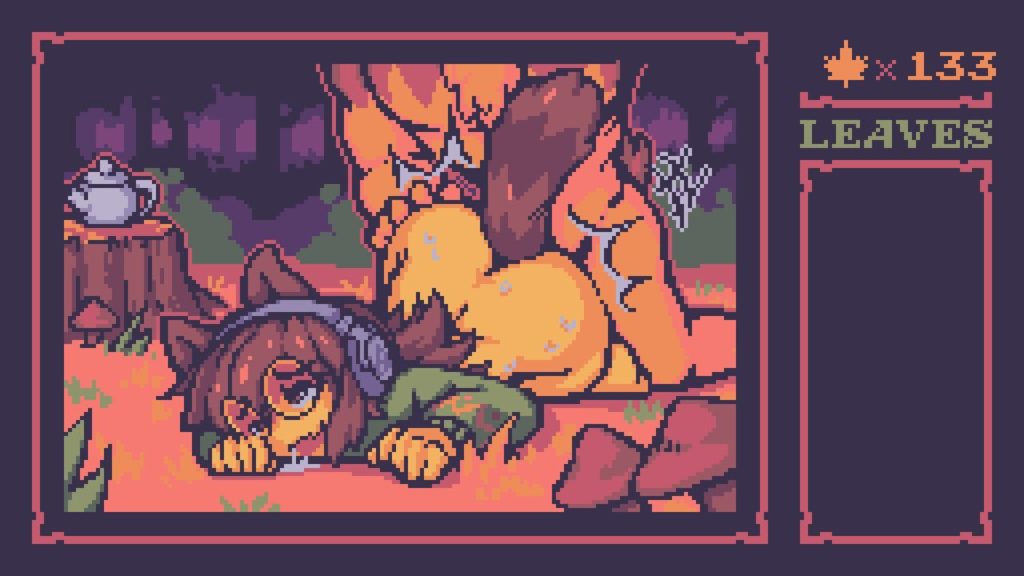 As to the NSFW scene… Well, it's light, and while I can't spoiler the scene itself, beyond: There be fuckin' , and cum, I did think something was… Off about the scene. So I looked up leaves that can be made into tisanes. Maple is indeed there, as well as… Oh… Ohhhh.
And then I laughed my ass off. Nice one, Ahegames.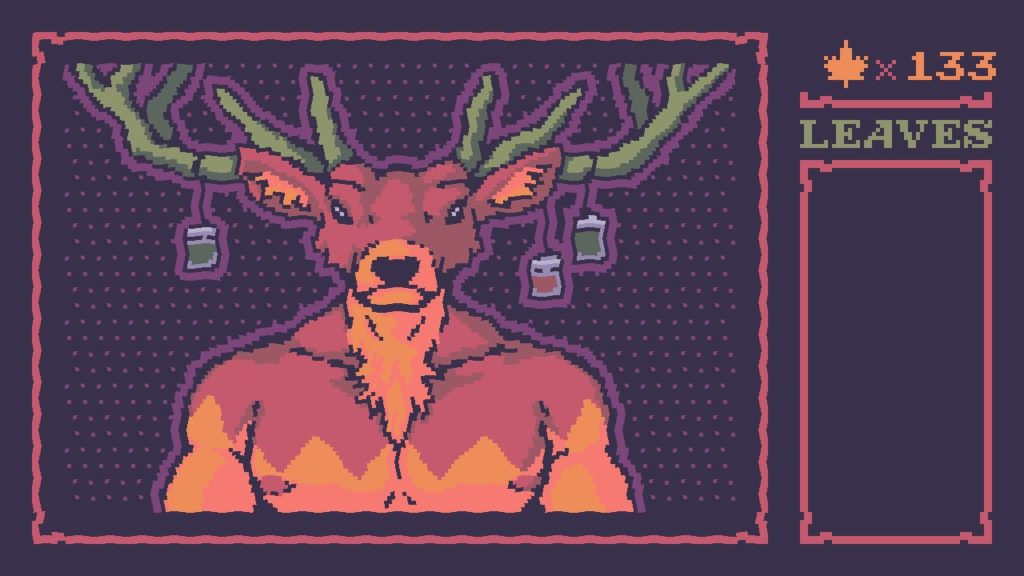 So, overall, it's light, it's pleasant, it has lewdness, it doesn't outstay its welcome, and it has some humour, hidden away. It's also $4 on Itch.IO, which is a nice deal for such a game. I'm proud that I got the joke, I love its tune, I love the cartoony "wheeeee THUMP" sound effect as our tea collector falls, the bus stop checkpoints. And yes, this was indeed to pad out the word count. Which I did very well indeed, thank you.
The Mad Welshman loves a nice cup of tea. He kinda wishes tea adverts had tea as a euphemism for sex, rather than Coffee, and Netflix.