Source: Review Copy
Price: £5.79
Where To Get It: Steam
There is a common misconception among folks relatively new to vertical or horizontal shooters (or shmups, as they're called) : That the Japanese ones are more difficult than the Western ones. While this certainly can be true (Hello Gradius, Hello Touhou!), there are still Western Shmups that are, for want of a better phrase (haha, not really), "Bastard Hard." Jamestown. Raptor: Call of the Shadows. Xenon 2. They're slower paced, for the most part, but enemies can be nasty.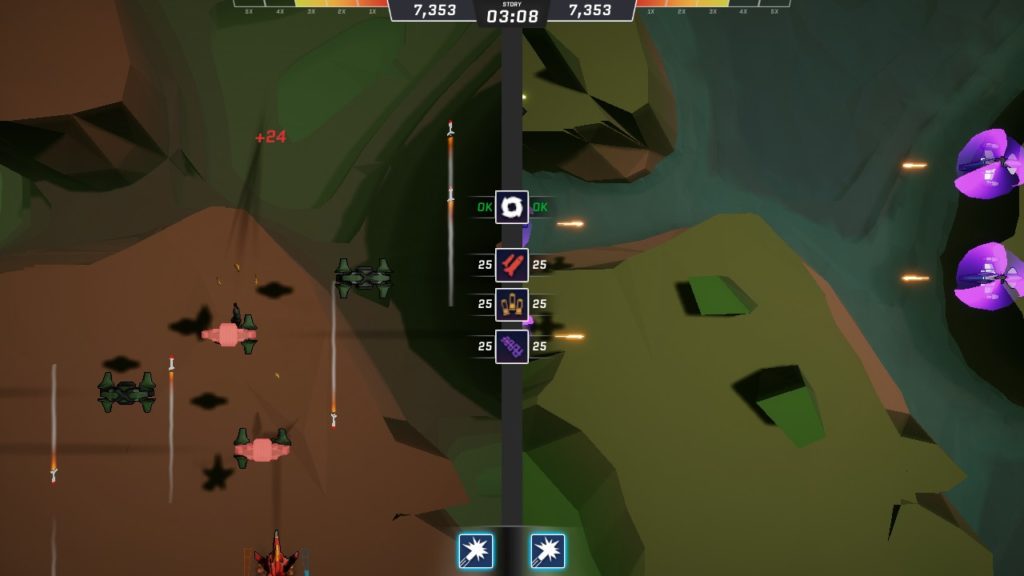 And so it is with Blink: Rogues, which combines some elements of the older European Shmup style (Slow paced, health bars, enemies are bullet spongey to the basic attack) with other ideas known to the genre, like enemies that can only be murderised with one of the three special weapons you have, flipping your craft to fire backwards, and a feature I haven't seen outside of one other game (Dimension Drive) : Swapping between two different playfields, both because there are enemies to kill/avoid in both, and there are obstacles in both, some of which can only be avoided by blinking between sides.
Which would make the game more interesting, if it wasn't for a lack of flair to it all. Now, don't get me wrong, I like me a low poly aesthetic, I love it contrasting with painted characters and nice, clean text. And I love little touches like parts that come off when you shoot them, even if it makes the enemies that little bit more bullet spongey. But the projectiles, the music, the enemy explosions… They can best be described as "workmanlike."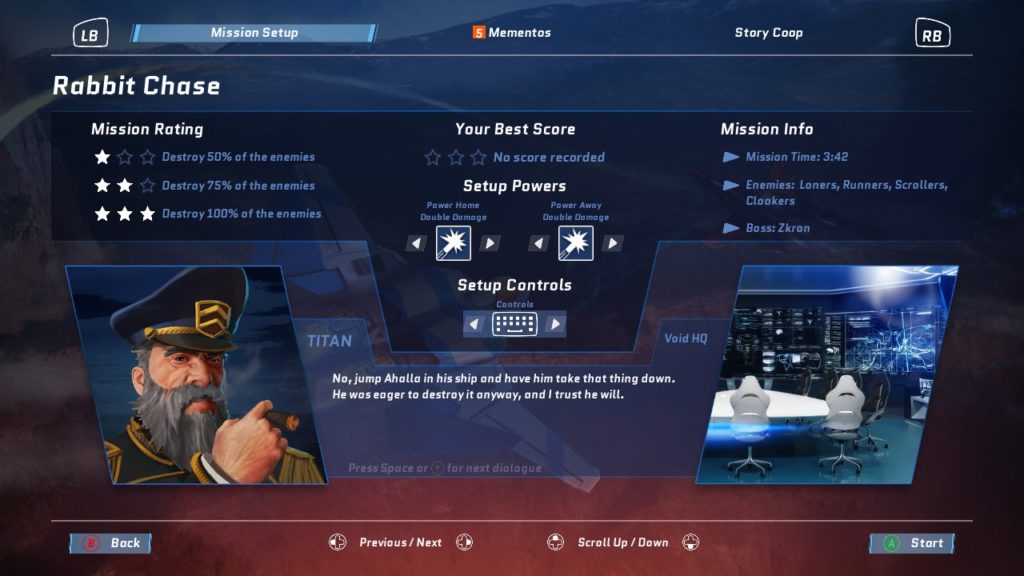 Add in that there's no UX scaling for the main, shooty bits, and no reminder as to what the special weapon keys are. Yes, I forgot. Regularly. Colours? No. Keys? Yes. I'm also not certain as to its colourblind friendliness (being Red, Blue, and Green), so maaaybe different shield animations would help there? In any case, it's not quite as accessible as I would like, and while the story is reminiscent of old arcade games and the DOS shooters that had story (Short conversations and collectible journals), it's also somewhat workmanlike.
I don't know, maybe I'm jaded. In any case, the difficulty ramps up reasonably well, although a big part of that is that death doesn't lose you the mission, but instead takes you out of the fight for a whole 3 seconds (and, if you were in the middle of a wave, 3 seconds is a loooong time), and lose your multiplier. That's pretty much it, although it does make reaching the star goals of a level that much harder if you die (Kill 50%, 75%, and 100% of enemies, sometimes with an extra modification like "You have to kill all the red beacon ships!")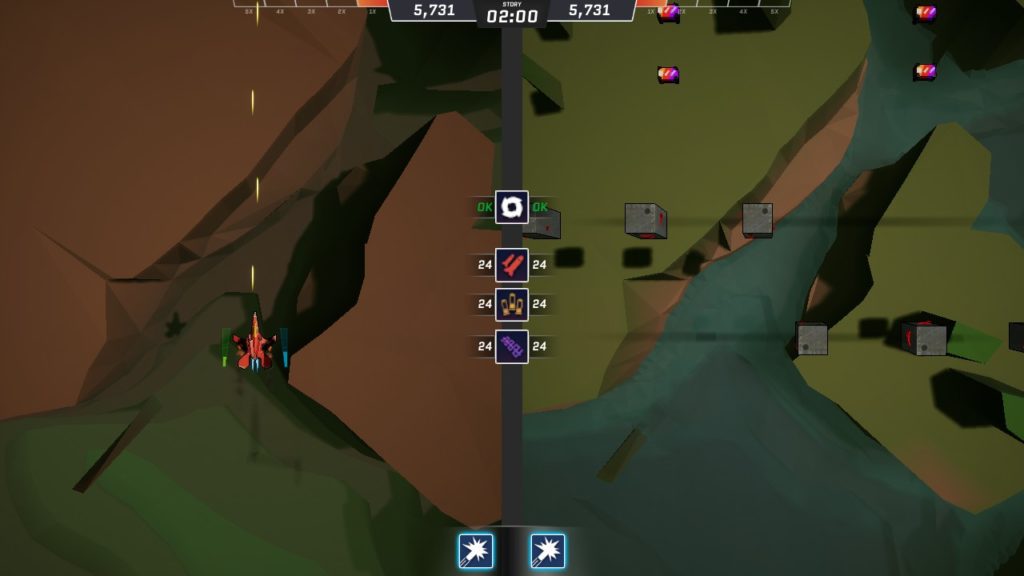 Despite that workmanlike nature, it's not a bad game, by any means, and a multiplayer mode (local, whether against another player, or an AI with 5 difficulty levels) with several story missions that don't outstay their welcome (and now, survival levels afterward, presumably on a "One life" basis) helps give it that little touch of replayability once you're done (Whether that's "Beaten all the levels" or "All the stars, all of them!"), but… As mentioned, it's workmanlike and low key, and I can perfectly understand why that would be a turn off to folks.
The Mad Welshman once had a successful 100% run of the Monty Python DOS game. To this day, he doesn't quite know how.