Source: Cashmoneys
Price: £22.49 (£7.49 for soundtrack, game available as part of Steamworld bundle)
Where To Get It: Steam
I knew I'd done the wrong thing when the lovely mage Copernica fell. I won the boss battle, somehow, but I knew… I'd done the wrong thing. And the fact that I very quickly caught on exactly what I'd done wrong… Says nice things about Steamworld Quest, the latest in the growing Steamworld franchise, and this time… It's a turn-based, card battling RPG with some real time elements.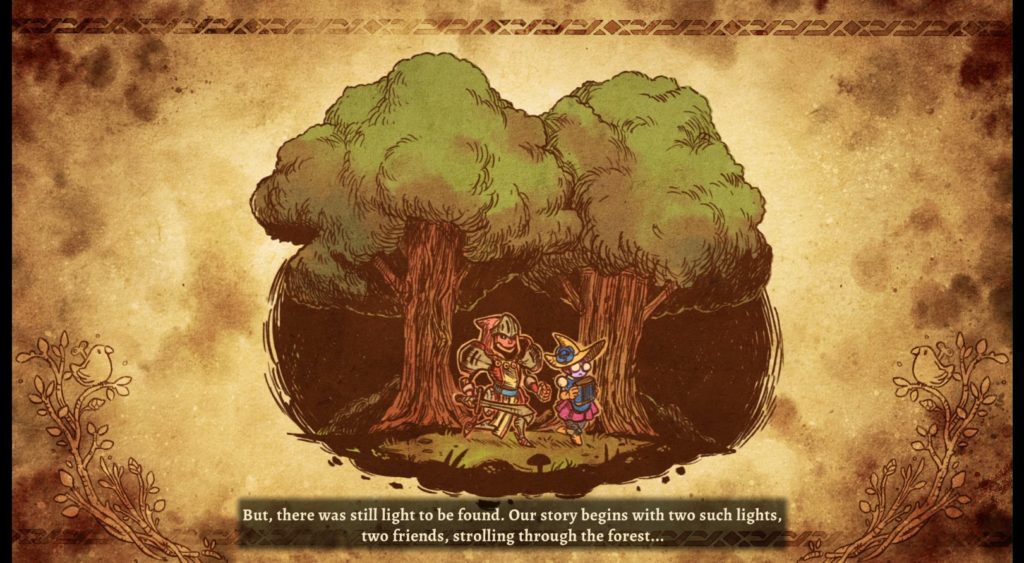 The general idea is this: Some unlikely heroes (More setting wise than anything else, because they very quickly become quite badass) have, after a short adventure picking mushrooms (Which, yes, results in a boss battle, because it turns out a large mushroom doesn't appreciate this), they return to town to find it on fire, with the heroes kidnapped by an evil army, of the kind that hasn't been seen in the land for a long time. And then things get interesting.
So, there's a fair amount to like about Steamworld Dig, starting with its somewhat unique approach to the card-based combat system of the type we've seen often lately. For a start, each character has their own deck, but all of these are shuffled into a single deck, from which you get 6 cards. You can play 3 cards a turn, but it's heavily to your advantage if you play all three cards from the same character. Okay, that's one interesting thing, but the other is where I made my mistake. You see, each character's deck is limited (8 cards at the beginning), which come in two forms: Those that build power… And those that use power. Guess which fule put too many of the latter in their deck before Chapter 2's boss fight? This fule.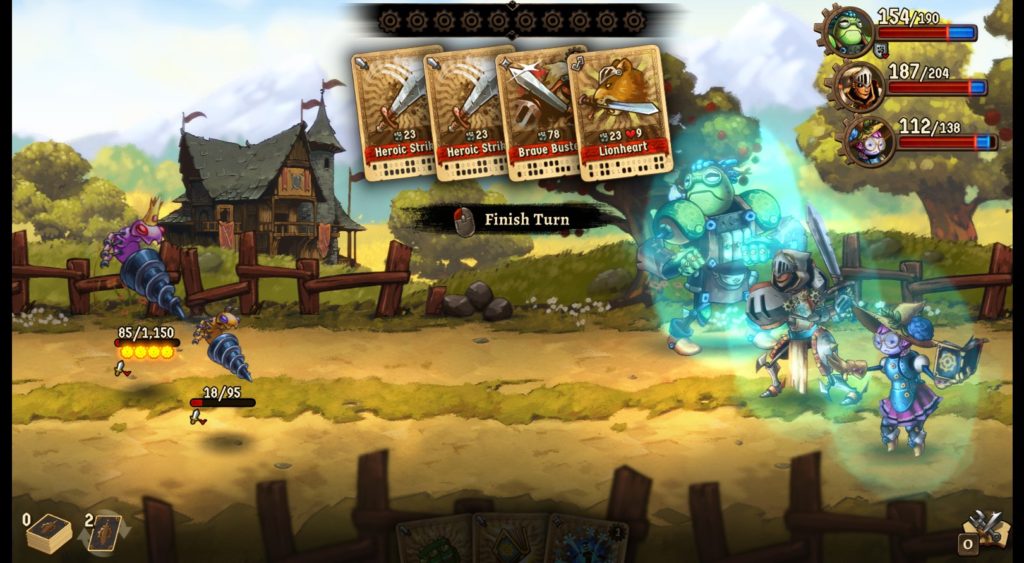 Aesthetically, the game works pretty well: Smooth paperdoll animations for the characters, clear and friendly UX, good and fitting music, and some solid sounds and splashes make up for the fact that the attacks, being of the JRPG style, don't always connect with as much impact as I'd like.
And then, of course, there's the humour. The Steamworld games, even when they get dark, have a sense of playfulness about them, and Quest is no exception. In Chapter 3, in particular, we get the distinct impression that the Adventurer's Guild had been living on easy street up until now (They have their own golf course, the bougie gits), and that the large world… Well, it carries on, even with an evil army on the march… Look for the two robots playing chess in the background. A subtle touch, but an amusing one.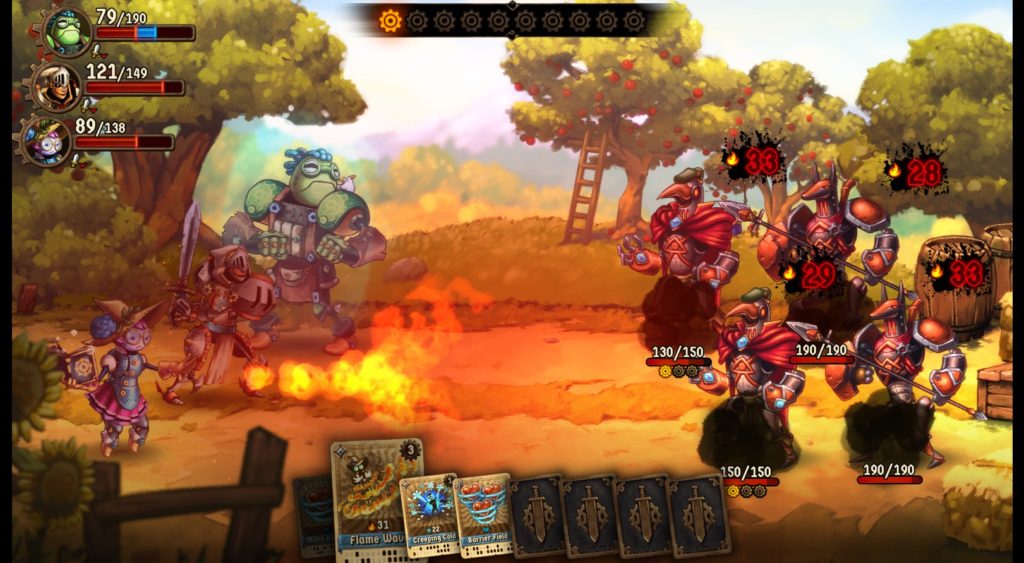 I do have one criticism of the game, but it's an odd one, because it does tutorialise well: If you do not engage with its core systems (such as, for example, using the redraws you have to maybe make that "Three from the same character" chain), you're going to have a much harder time. Even early Void Mages can heal each other, or themselves, for definitely more damage per turn than Copernica's basic attacks, and a little less than what Galeo (the punchy healer) can put out with his… And since they rarely turn up alone, it can make a fight really drag on. Which, considering that the longer a fight drags on, the more you get hurt, and that healing items are not the most plentiful?
Well, please listen to the tutorials. Overall, though, I appreciate Steamworld Quest going for tight play, focusing on managing a small deck with more potential tools as you go on, and even something of an ambush system (Okay, second crit: Since ambushing an enemy means clicking directly on them when you're close enough, it's a hassle to get ambushes, and those are that little extra edge that can help a fight a fair bit.) It has style, it has humour, and, as always, I do like a good experiment. Especially when, as with Steamworld Quest, it seems to work.
The Mad Welshman has yet to meet a robot he hasn't liked. Admittedly, some have been murderous mixes of skeletons, T-Rexes, and lawnmowers, but they were his kind of skeletal murderous lawnmower t-rex robots.