Source: Cashmoneys
Price: £13.99 (£3.99 soundtrack, £17.98 game and soundtrack)
Where To Get It: Steam
Even at this relatively early stage, there's a fair amount to say about Noita. It simulates every pixel (Although this mostly applies to fluids, fire, and particulates like spurting blood, smoke, steam, and even flammable gas), has an interesting core weapon mechanic, is, at the current stage (and probably later too) hard as balls… And, for some reason, it quits and restarts after every run. Don't take that as a criticism as in "This thing is bad." The game still works just fine. It's just odd.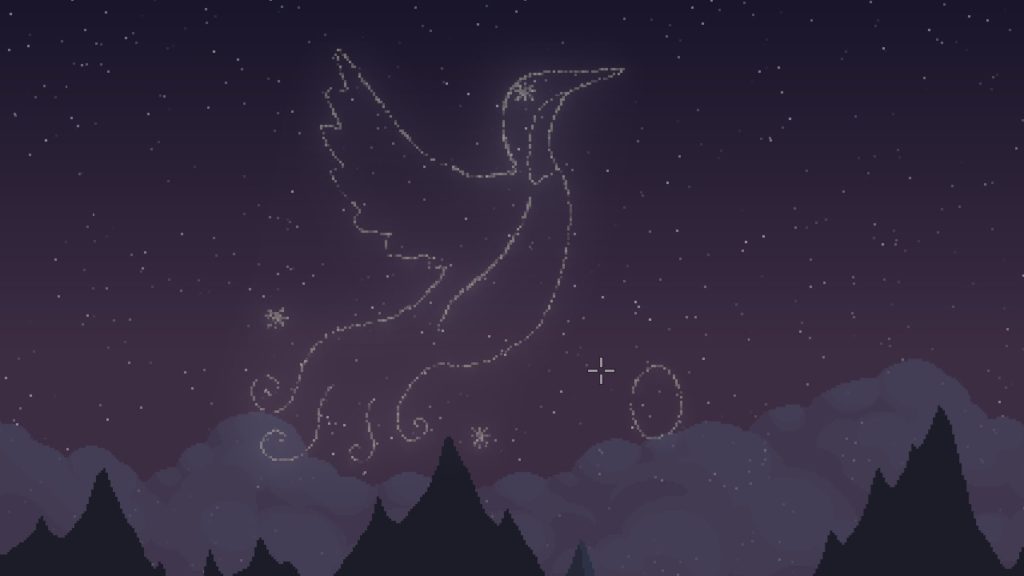 So, right now, this is a somewhat plot light game (who knows, maybe it'll get more, maybe not.) It's implied, the first time you play it (and never again afterwards, because it's a first play cutscene) that the universe came from a great phoenix's three eggs. One created the land and sky, one the stars and sea, and the other… Life, both the usual kinds, and the inimical kinds. You are a wizard, entering a mine which appears to be some sort of trial, or at least having temples between levels that conveniently give you useful things… Like filling your health back up, because there is no health regen.
Funnily enough, I don't particularly see that as a bad thing, because, while the economy gets annoyingly sparse later on (requiring enemy murder to get gold), if you've played your cards right, or simply gotten lucky, you'll have something powerful enough to deal, even if the enemies, unless you're tactical, can most definitely do unto you as you do to them. The nastier foes in the early levels, for example, are acidic spitting eyeballs and your fellow wizards, corrupted into elemental forms (I've only ever seen fire and lightning wizards, but these three alone are an immediate "nope!" on low health, and a pause for thought as to whether you really want to do this otherwise.)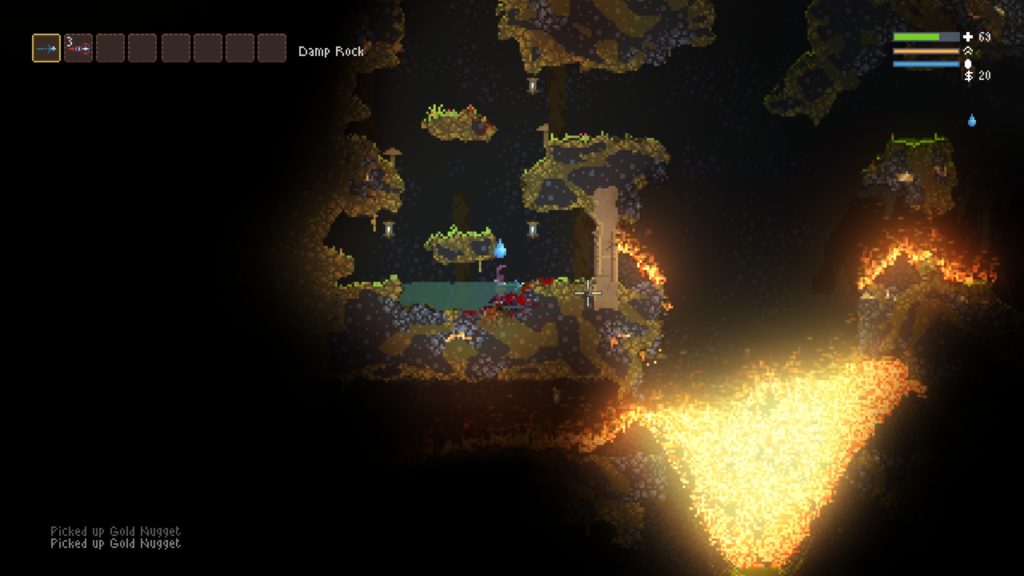 So, how do you get better? Well, sometimes, you can use your environment. Kicking things that can be kicked. Destroying convenient explosives, gas canisters, toxic goo canisters and the like. Setting off oil pools. Firing lightning into steel beams to murderize anything standing on them (Caution, this includes you!) Perks got between levels, like the ones that allow you to ignore elements, the ones that cause you to bleed poison, or slime, or be able to survive a single hit if you had more than 1 hitpoint (Does not apply to fire or acid, for obvious reasons.) Potions, like Beserkium (gives you Beserk status), Blood (Useful for folks with the Vampire perk), and Invisibilium (Guess.) Protip: And empty bottle can be used to store other liquids. And, finally, wands, and the spells contained therein.
You start with just two of these: A weak magic missile wand that fires two (capacity of three spell effects) before needing to recharge (relatively quickly), and a bomb wand, that, obviously, makes a bomb. Of which you have three. But you can find wands, and spell effects, or you can buy them between levels, with the gold you've earned… And, once you have those spell effects (You can even take them out of a wand completely before levels, to store for later), you can swap them between any wands that can cast them. And some effects, obviously, combine. So, if you wanted, and found the right elements, you could have a flaming projectile… That leaves a trail of gunpowder behind it. Or two at once. Or three. Some wands even have a spell built into the wand itself.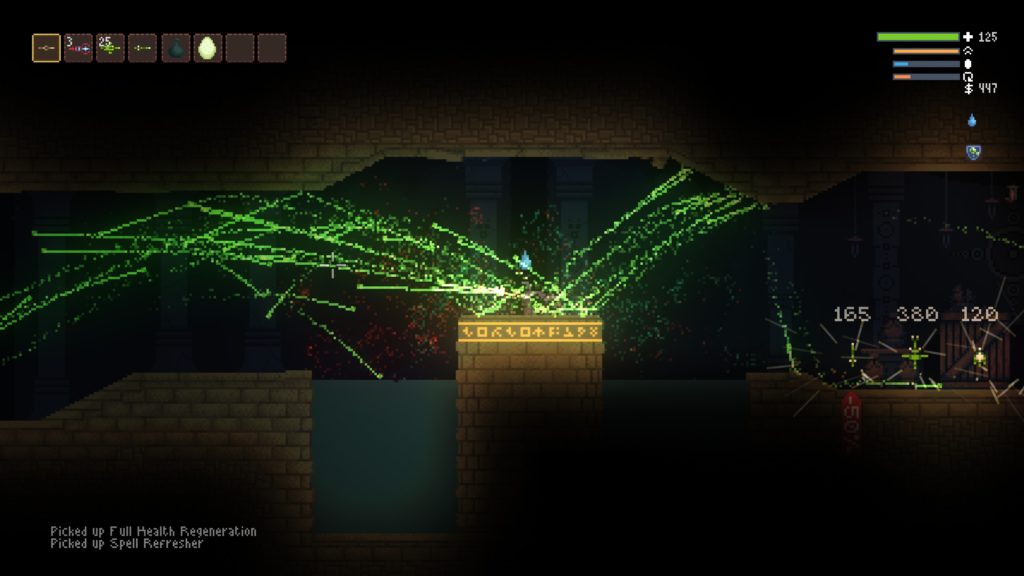 Aesthetically, it pretty much works. The environments themselves aren't amazing, but it's a whole thing to see pixellated clouds of flammable gas wisping its way upwards from where, below, the acidic gribbley you've just murdered is spewing it's blood all over the ground, eating into it. Or how pretty a massive oil fire looks in game, licking over and through the wood… Before you realise "Wait, shit, I'm too clo- AAAAA HOT HOT HOT!" Remember what I said about potion bottles being filled with liquids? This is but one good reason why. Soundwise, the enemies themselves make few sounds, but the music is good, the sound effects for the various wands work.
But, honestly, the biggest draw here is how it works mechanically, the interactions of the world. And I find this very interesting, and pretty cool, so… Yeah, promising, as mentioned, hard, although it's still, as far as I'm aware, relatively early days… I like it!
The Mad Welshman points out that drinking and wanding is not recommended. Especially if one of your spells is Fire Breath.