Content Warning: This game is M/M gay pairings, and has BDSM themes and subjects, including bondage, masochism, rough sex. The bad ending for Karn's route involves murder of the protagonist.
Source: Cashmoneys
Price: £7.19 (Cheat Map, Artbook, Soundtrack, all £4.79)
Where To Get It: Steam, Itch.IO
The nice thing about AO Visual Novels is that, if they're done well, they not only arouse, but put you in the zone with your character (and perhaps provide some other emotions too, like amusement.) Thankfully, My Magical Demon Lover is the first Yaoi (M/M) VN I've tried to review, and… My first route was a lovely one. Let's, before we talk in more general terms, talk about the lovely boy who is Soren.
See, Soren, at first, is a cutie. He's not really into sex, but there's a reason for that, and the happiest ending… Well, that's achieved by being understanding, and only pushing at it gently. He's someone who is gently led into sex (well, at first), and… Well, I liked his demeanor. So I was very happy that, on my very first playthrough, I achieved that happy ending. My protagonist hadn't just had some hot and heavy sex (a lot), but he was happy with the relationship. And I, through the protag, made that happen.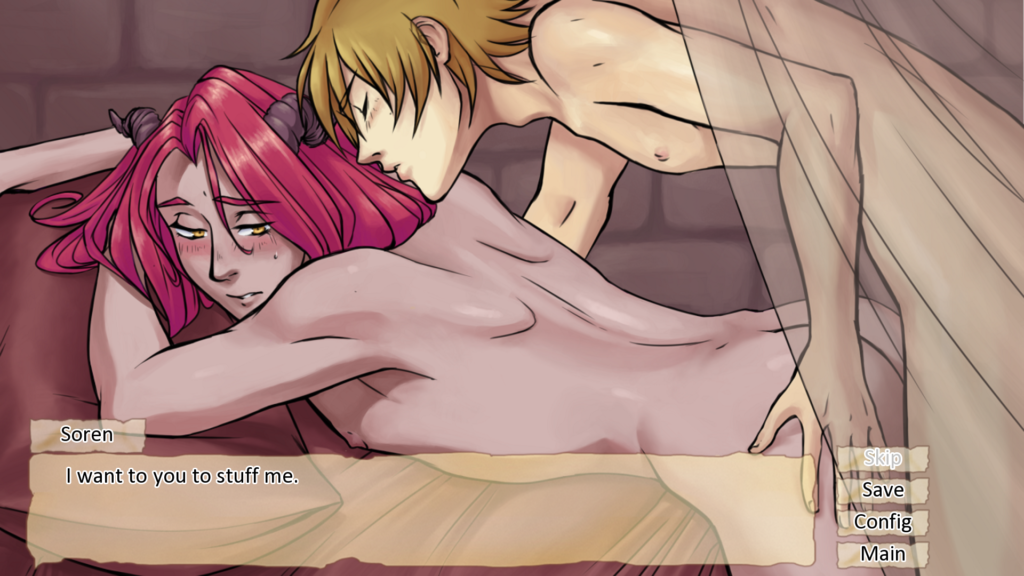 Okay, now let's talk in more general terms. My Magical Demon Lover is, as noted, a Yaoi Visual Novel, in which the main character, Tristan, appears to have finally gotten his big dream fulfilled: To be a great wizard, like his grandfather, Percival. But, as it turns out, it's a little more complicated than that, because you have to make a deal with a demon, and their deal is a sexual relationship. But you only have the briefest of times to get to know one of the demons before you pick. And after that? Well, to become a great wizard, you have to have a real bond with your demon partner. And, of course, different lovers have different desires. The store page is nice enough to let you know vaguely what sort of a time you're into with each.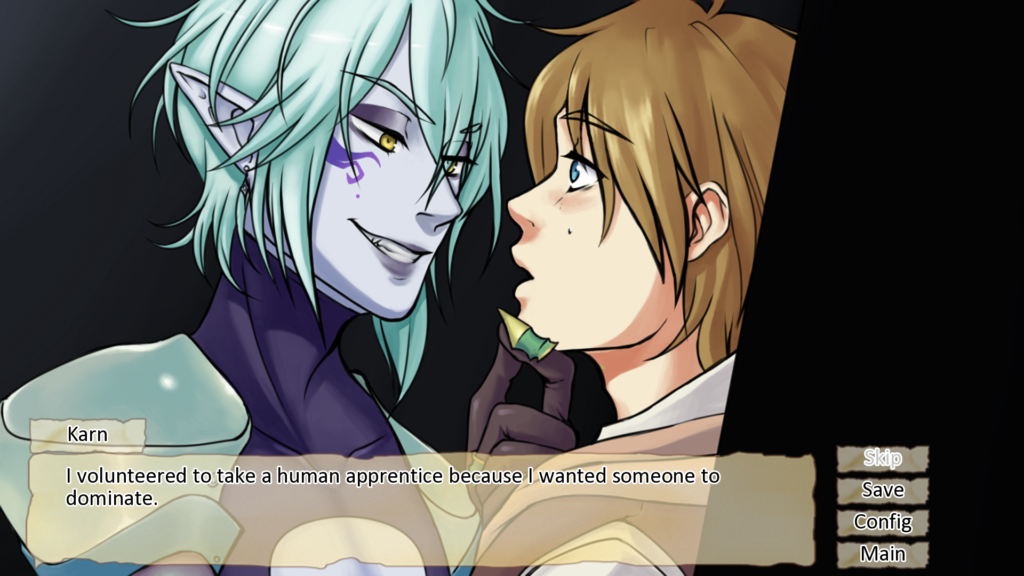 So, lewd terminology time! Specifically, tops, and bottoms. As you might have guessed, this is a term for dominant partners, and submissive partners (Although this can vary. To give top examples, there are rough toppings, gentle toppings (as in the Soren Happy route), seductive toppings… There's a lot of ways to be a top or a bottom, basically.) So, of the demons, Harse is a gentle top (Unless you take the Hard route), Karn is a hard top (it says switch, but… Nah, he's pretty damn top, so this is the sadism/bondage route), and Soren is… Well, he's not quite a bottom, the way the page describes either. Each route has their own feel, their own appeal… And 14 potential endings, ranging from horrible… To happy… To being a perfect subby little boy.
The aesthetic is interesting, as your first introduction to the game, soundtrack wise, is a song with the repeating motif of "Groove it, groove it, groove it" , which made me chuckle, the music varies quite nicely, fitting the mood of each partner, and the art, similarly, supports the narrative well.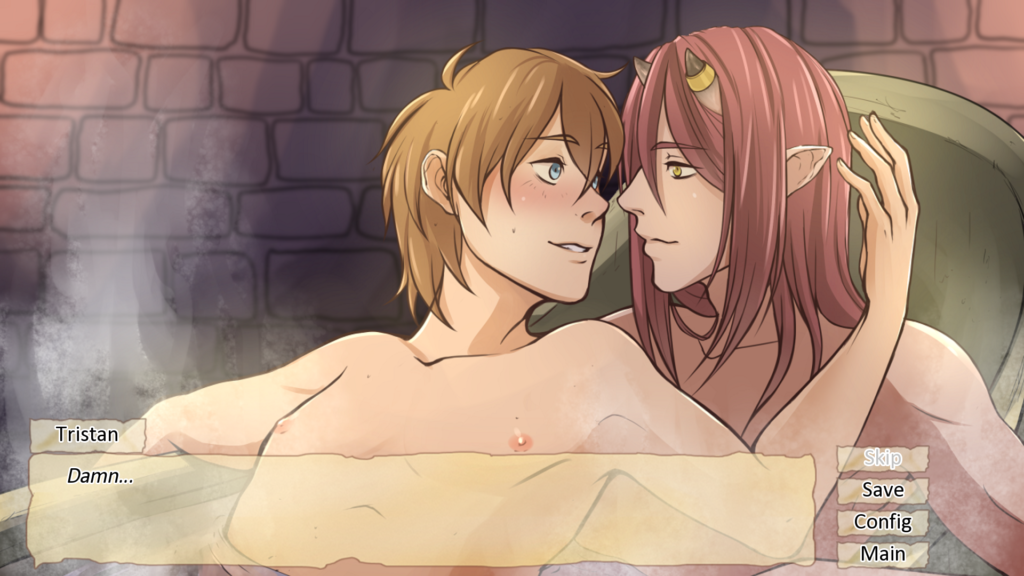 As to the writing? Well, they fit their mood well, too. When Karn is hard, he's hard indeed, and it makes an interesting contrast to the more gentle tones of Harse and Soren's stories. Soren is… Well, if you don't like exhibitionism, or footjobs, the early part of the route is a turnoff, and Karn… Well, as noted, he's the most sadistic and dominating one of the trio, and he's not exactly one for preludes, either. And I'd definitely understand if that's a turn-off.

Overall, I'd recommend My Demon Lover, description inaccuracies aside, and it's a good example of that good, sweet lovin' between dudes (or, y'know, being hard dommed or horribly fucking it up.) On a final note, Percival, the grandfather, is a delightfully pervy dude, I laughed at the dialogue there, and honestly, I wish I'd seen a little more of him. Oh well!
The Mad Welshman is a top. The Mad Welshman is a top. The Mad Welshman is a top. And he has to keep telling himself that around hot demon boys.