Source: Review Copy
Price: £5.79 (£7.09 for game and soundtrack, £2.09 for soundtrack)
Where To Get It: Steam
Other Reviews: Early Access 2 , Release Review
Adventurers are not the smartest of folks. They run heedlessly into dungeons, and then scratch their heads as they're faced with… A grid? A small economy system? A… Puzzle? BRUNO SMASH. Bruno dead. Whoops, Bruno should have listened to the tutorial of Krumit's Tale, a fun little puzzle and deckbuilding roguelite in which you try to efficiently clear out a dungeon, with the only major criteria being survival. Of course, if you survive and leave a lot of item tiles on the board, you get more opportunities to beef up your deck. And that's so very tempting.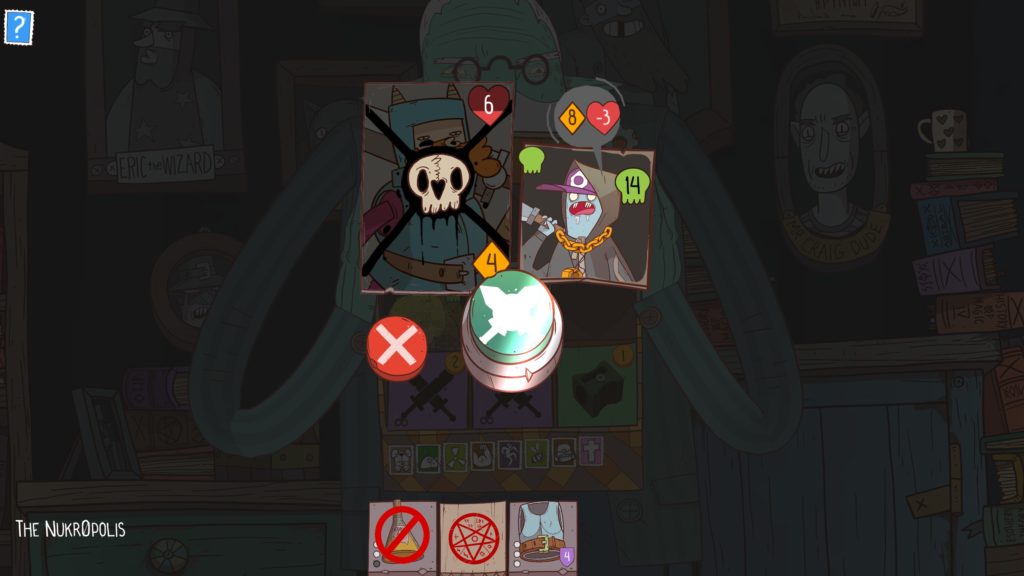 The actual rules of Krumit's Tale are pretty simple. With an enemy, you attack first, unless they're ambushing or blitzing you (the lightning symbol.) Killing an enemy nets you 1 gold, and gold is used to buy abilities. I mention this before things like parrying, where if you have more armour the the enemy's attack? They're stunned for a turn, which, effectively, counts for either two turns of damage, or the enemy's death, depending on how much they have left in the (heart) tank, because you don't start with weapons or armour.
You have to buy them, if you have the option. Once all enemies are dead, you've won, and the equipment and ability tiles you have left on the board are counted toward your bonus points. You get a free tile, you pick a special ability out of four, and then you buy tiles and rubbish cards you don't want anymore until your deck size is the current maximum. Then you do it again. Die? You've earned XP, which will, over runs, unlock you new abilities for the character you've played.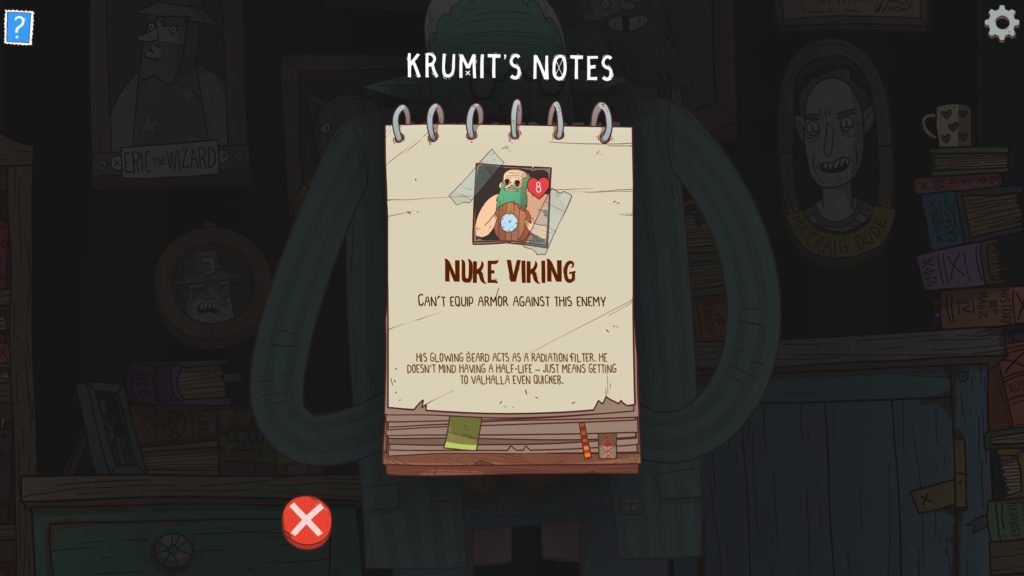 The devil's in the details, of course, with each new enemy having something that complicates matters, but the base ideas are tight, simple, and easily understandable. It doesn't take long to get the hang of. Which is good, I like me some tight design! But what about… Everything else?
Well, it just so happens that I like the aesthetic too. Visually, it's a cartoonish style, with some interestingly grim elements, and lovely little touches like the M of Krumit's fluttering above the candle flame of the L, and the animations of each character. Speaking of characters, both of the currently available characters have their own… I won't quite say "charm" , but character works. Bruno is definitely a barbarian of a man, with a constant, low key gargling of suppressed rage, and similarly, Greybeard the wizard is toothily muttering his incantations. Their designs, and that of the monsters, are pretty cool, and the music? Suitably creepy. Nice!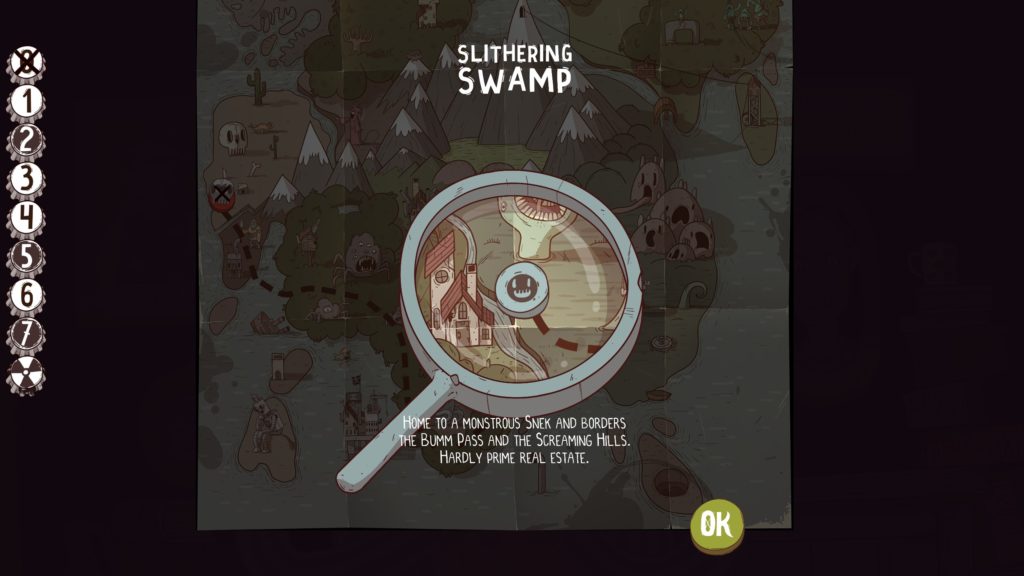 This, the difficulty curve, the clever little things you can do (If your inventory isn't used up, it counts toward that tile bonus, friends!), and its sarcastic, sometimes grim humour works well for me. As far as deckbuilder roguelites go, it comes recommended, even in this early stage, showing promise and polish.
The Mad Welshman loves the description of W'aggu. Alas, he didn't screenshot it. Go play the game.