Source: Supporter Gift
Price: £19.49 (£7.19 soundtrack)
Where To Get It: Steam
Supergiant do it again. They keep doing it. I'm enjoying a game about a rebellious young adult, Zagreus, son of Hades, snarking and battling his way from his home at the lowest depths of Hades, trying to escape, in essence, a shitty family situation.
Its aesthetics are gorgeous (God, so many fucking hunks!) Its progression feels natural, to the point where I knew where I was going, knew what I was doing, and was fine with dying over and over again, because I knew my grind would be rewarded. Its characters, even the grumpy and overbearing dad Hades, charmed me.
And thus, one of those times I hate is upon me, because I can't say anything bad, so I'm struggling with what the hell else to say.
Okay, so, Hades is an action roguelike, in which, as noted, Zagreus, son of Hades, is attempting to escape, with the aid of his step-mother Nyx, the Olympian Gods, and a few other notable figures, including the most relaxed and friendly incarnation of Sisyphus I've ever seen. You start with one weapon, a sword, make your way as far as you can, get your ass beaten down, and come back for more, wading out of the pool of blood that forms the entryway to Zagreus' home as he bitterly snarks or swears payback.
He will escape. Because he cannot die, so he keeps trying, because he knows he can do it. And, as he does, he gets more powerful. He befriends various people, like Dusa, the disembodied medusa head maid of Hades' abode (She's so cute!), or Dionysus, who reminds me so damn much of Zaphod Beeblebrox that I find myself smiling. A chill dude, I like him.
Anyway, yes, the progression is natural, the sound design great, the VA good…
Look, I can't keep saying nice things, so I will end with this: If you like action roguelikes, then yes, this is a good one to pick. It's easy on beginners, it's accessible (alas, never perfectly, for it is twitchy, but still), and, as mentioned, the grind feels less like a grind, and more like a natural state of affairs.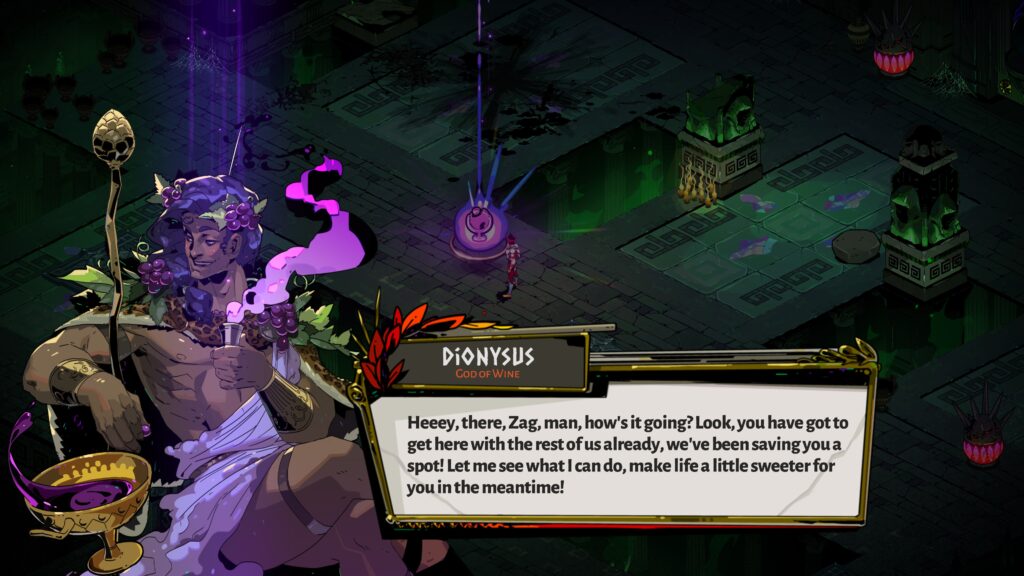 It's good stuff.
Call me, Dionysus, we had a fun time! xoxo