Source: Review Copy
Price: £44.99 (Ultimate Edition £64.99, Upgrade to Ultimate Edition £29.99)
Where To Get It: Steam
Ah, Codemasters. Purveyors of racing games since… Well, as long as I can remember. No, that's a lie, I grew up with them publishing Dizzy games. But for a while, at least. Sometimes a little simulation-like, mostly arcadey, with fairly good music, a fair few licensed vehicles/teams/racers, and this time…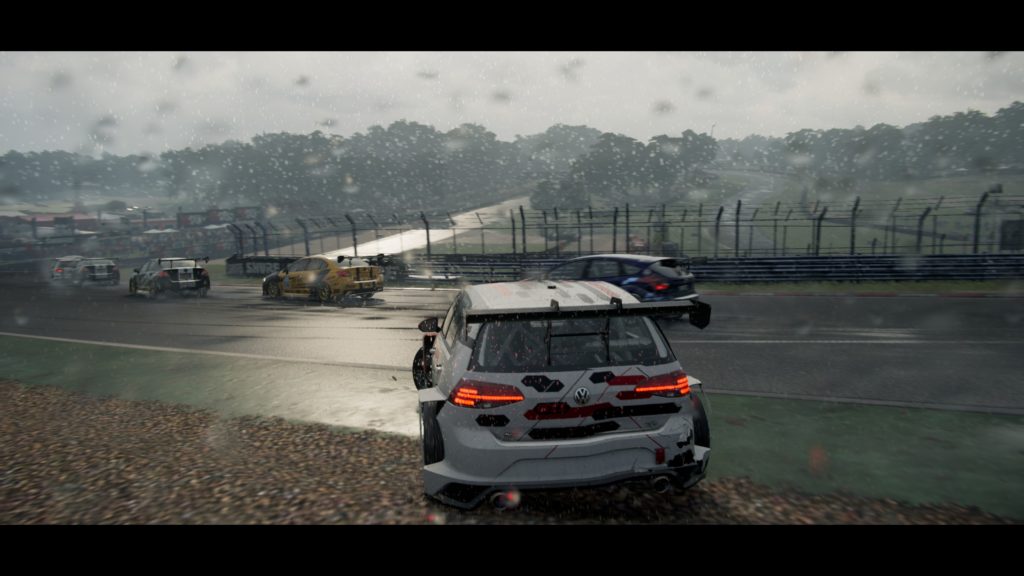 Three races before you even hit the main menu for the first time. Three races, and something like five interminable cutscenes. Oh, GRID 2019 is off to a rolling start, and… Wait, what are the keybindings again? Oh… Oh… Suffice to say, even though I understood part of why, I was less than impressed with how my experience started.
Was I impressed with the game itself? Weeeelll… It honestly isn't bad. The cars are somewhat tunable, and there's a moderate variety of them, with the most in the Invitational category (presently, at least, as the game has a Season Pass and some car DLCs already… hissssss…) Aesthetically, it looks good. The menu music is solid Racing Game music, of the kind you hear in racing recap segments, or, indeed, earlier Codemasters games (in mood and motif. Not exactly the same music) But when it comes to the races themselves, it's the cars you concentrate on, and they, also, sound good. A Camaro sounds different to a Mini Metro, and when you're pushing them to their limit, they sound like they should… Straining and buzzing angrily at the treatment you're giving them.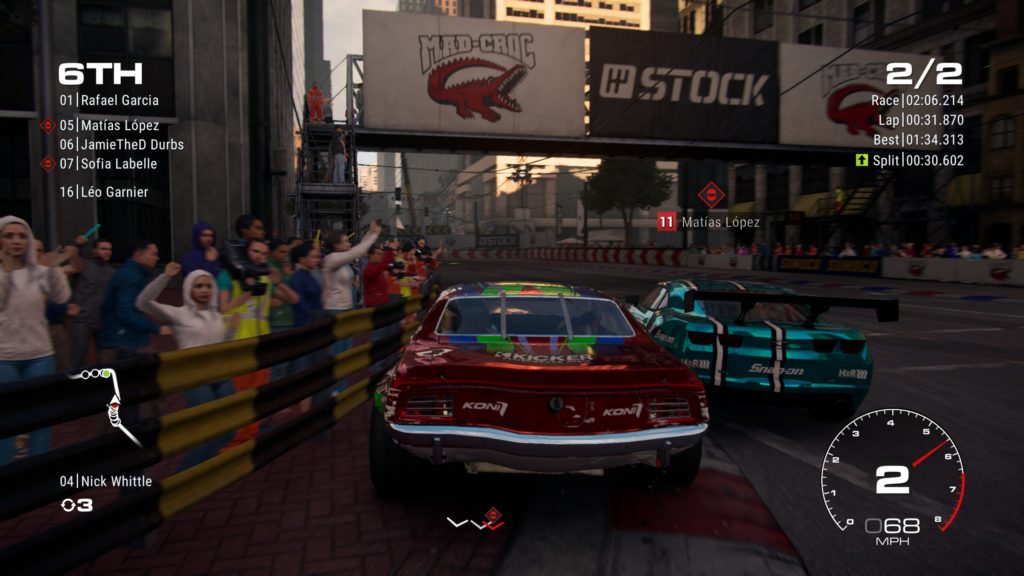 The tracks, the racers, the cars… They are, for the most part, the popular ones. Oh, there's Silverstone. There's San Francisco. But there aren't that many of them (although, as with many racing games, extra variation is added with track weather and driving the course in reverse), and… Well, even though I'm sure there will be some free tracks, the purpose of that Season Pass becomes clear.
But this, also, I could somewhat forgive, because what there are are some interesting and technical tracks. And, if you're not a great racer, one who makes some pretty nasty mistakes, the flashback feature from past Codemasters games is alive and well, on a rechargable basis rather than "You have this many." These are nice. It even allows you to unlock races without actually winning them. And, of the race styles, there's a fair few, which, overall, is the most varied part of it for me (With Invitational taking up the most room in terms of both cars and events)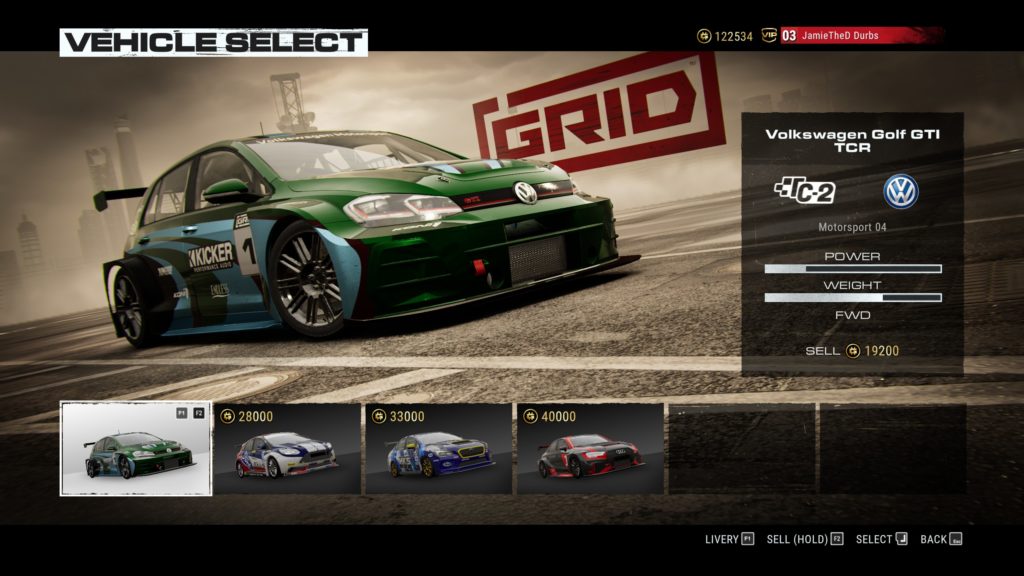 Hell, the AI is at least alright, reacting to you, playing aggressively if you're anywhere except in first and speeding the hell ahead, although if you qualify, then get first, you're going to have a much easier time of it, and some racers… Well, here we get to what's not so great. Specifically, the nemesis system, and the team system.
The nemesis system, on the face of it, is a clear one: If, like me, you race dirty, and trade paint, or even bits of your frame, to gain advantage, you're going to piss other racers off. And you have a team member, who can be ordered to attack (try and move up), and defend (try and help you forward.) There's even purchasable team members, but, to be honest… Neither feature seems to play much of a role. Nemeses (for lo, I often have multiple on any given lap) don't seem to be more willing than usual to trade paint with you, or screw you over, and team-mate orders don't really help all that much with your position over, say… Having a good line, and being aggressive.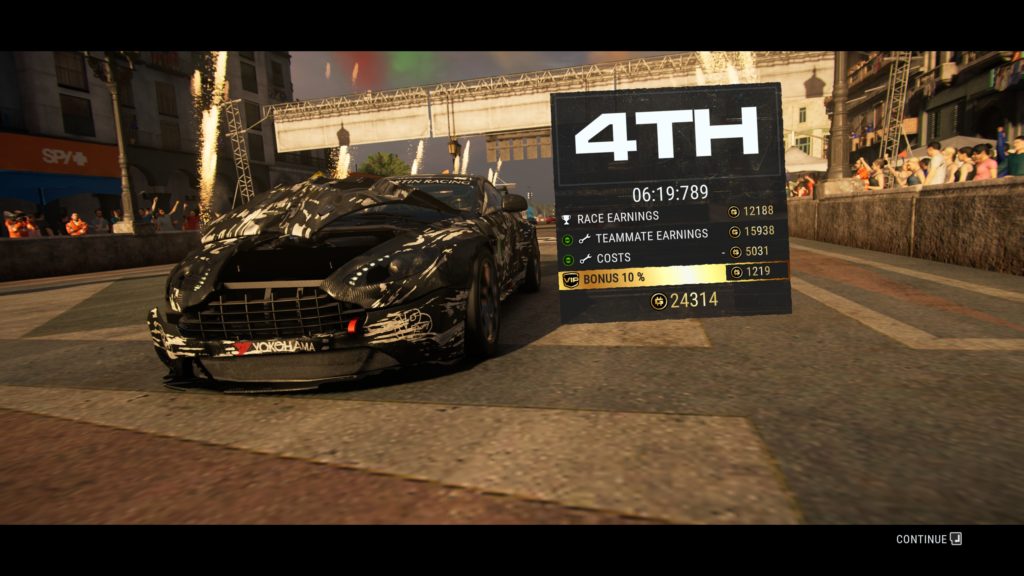 As such, buying team members isn't really a purchase I've bothered with, to, basically, no effect on how I've enjoyed the game (which is "Somewhat") The UX is that understated style you often see in racing games nowadays, and, in and of itself, it's not bad (although damn, do the visuals on cars seem to take an Ice Age to load in those menus!)
And this leaves me uncertain where I stand, precisely, with GRID 2019. It's alright, for sure, but it's made some odd decisions, I'm not exactly the biggest fan of Ultimate Editions, Season Passes, and whatnots, and some of its features seem under implemented, despite being seemingly flagship features. I also can't deny that it feels like less than its predecessors. And, as such… I'm erring on the side of "Not really."
The Mad Welshman is not, after experimentation, as bad at arcade racers of this style as he feared. Turns out he's just aggressive.