Source: Cashmoneys
Price: £2.09
Where To Get It: Steam
Yup, it's a NESVenture style game alright. As if the interface wasn't a big enough clue, the deaths, the inventory loss moments, and… Ear piercing noises definitely clued me in. Those last, in particular, are worthy of note. And not in a pleasant manner.
So, for those not aware, the NESVentures is a reference to adaptations of a series of adventure games called the MacVentures by a company called Kemco, who simplified the multiple window interface into something tighter: A map window, a picture window, an inventory window, and the verb/save/load window (TAKE, USE, OPEN, LOOK, etcetera.) They were known, just as the MacVentures were, for what we now call "'Gotcha!' Deaths", where opening a door, taking an item, or otherwise fiddling with something you didn't know was dangerous… Turned out to be fatal.
In the case of From Beyond: Prologue, it is a NESVenture style game set as a prequel to the Lovecraft tale of the same name, and you play as… The antagonist of that story, Crawford Tillinghast, on his quest to see what man was not meant to wot. Alas, we are meant to shepherd him toward the doom he's meant to suffer, not all the other dooms along the way, such as being eaten by wolves, falling down a crevasse in the dark, or not having the right item on him when something horrible inevitably does appear.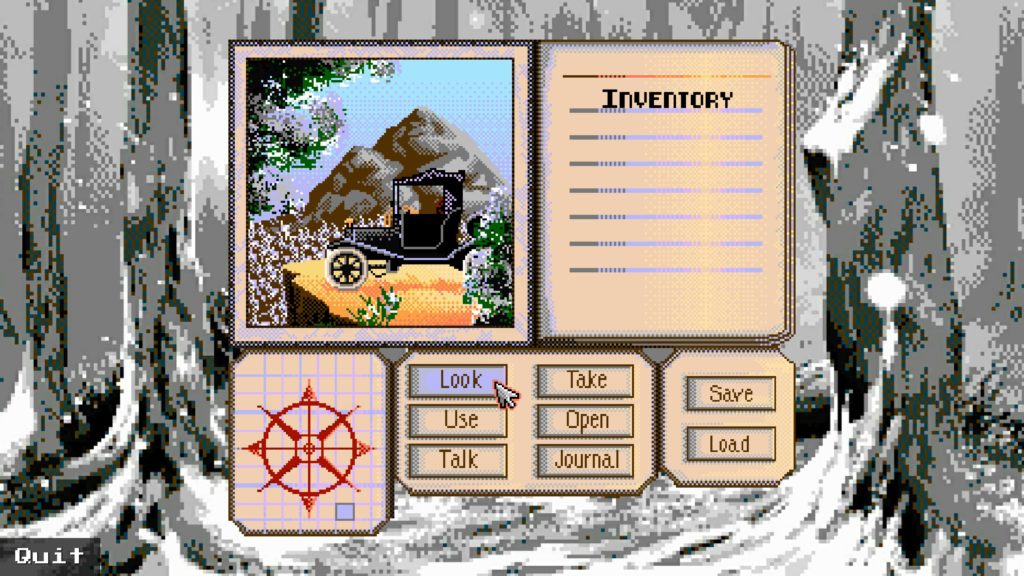 It is, then, perhaps unfortunate that, along with the tight interface of the NESVentures, the developer has also introduced many of the flaws. Thankfully, the Gotcha Deaths are of a much lesser degree here, being telegraphed in one sense or another (The snow is loose, the floor looks weak, it is dark… So on.) But, even with this, it is a point and click adventure where you have to LOOK in the picture window to note any items you may need, and most useless interactions are marked with nothing. Which wouldn't be a problem, if that also weren't the reaction when you've missed the hitbox of the thing you're trying to effect. I mention this because of an apple on a branch in the second act, which, so far, has resisted all efforts to effect it, both through its relatively small hitbox, and seeming lack of items that will get hold of it.
So, utility issues aside, it visually achieves the style it's going for. Similarly, its chiptunes and most of its sound effects also achieve the style it's going for, and your tolerance and enjoyment of these really depends on how much you like NES style chiptunes. That being said, that high pitched squeal whenever The Entity contacts you, or something weird related to it happens, is, as noted, piercing. Even with the sound turned pretty low, it's annoying, and, due to its comparative volume, I would definitely recommend turning the sound low.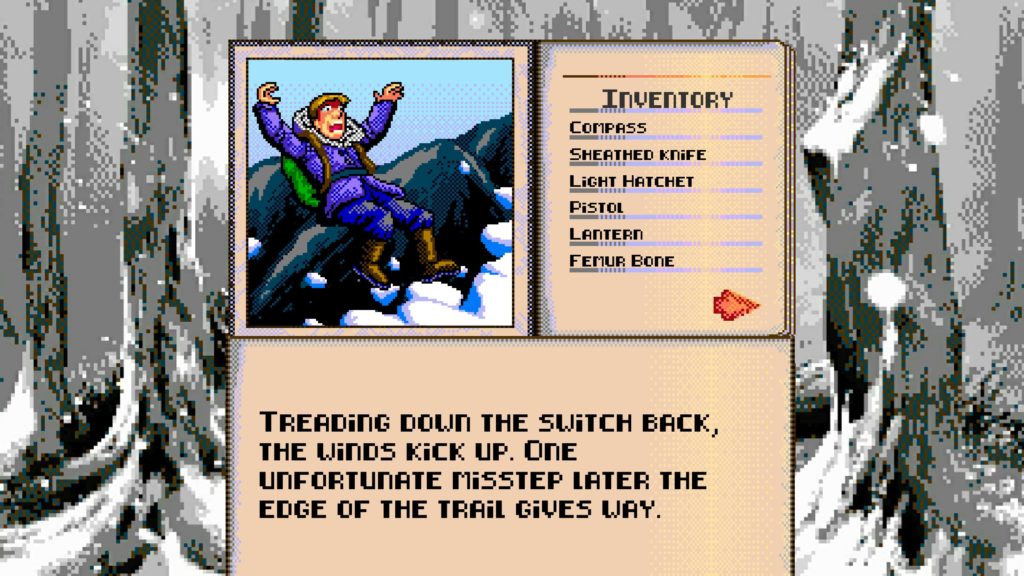 While it is not a terribly long game, as most NESVentures were not, it is a game where you're going to be pushing your 5 save slots to their fullest if you try it out. Would I recommend it? Not… Really. It's an adventure game emulating an old adventure game's style pretty well, but that means old adventure game rules, and that means that, unless you're really into the "Save early, save often, oh wait, 5 save slots" style of play, it's going to be more frustrating than enjoyable, and no commitment to aesthetic is really going to change that.
> FINISH REVIEW
That is not an approved command. Your blood pressure rises.