Source: Cashmoneys
Price: £29.99 (And a whole buttload of DLC, totalling £71.)
Where To Get It: Steam
I loved Darius when I was young. It was a great example of the imaginative boss design of shmups, along with Xenon 2's bosses. An evil empire that has a design theme of fishes, crabs, and cephalopods for its giant boss ships? Oh. Hell. Yes. It helps that the series has had one hell of a soundtrack, and it's been alright on the difficulty for a shmup.
So, once again, the Belsar have invaded, with their fish-like ships, and it's up to the elite Silverhawks to scramble to save the day. Go save the day, hero!
Bam. Plot done. Let's talk about the game. Like earlier titles in the series, it's split up into various routes, although, unlike previous entries, there's a single main route, and side routes. What makes this one interesting is that you can unlock ships from throughout the series (and, with DLC, play ships from other properties, including the jetpack cannon funtimes of the Space Harrier protagonist), and play with those… Although you'll get a chance to try out most of them in any case, some of which have unique tricks, and all of whom have at least one different element. Each mission is split up into at least two stages, often with multiple boss fights against memorable ships (the same models, such as King Fossil or Mirage Castle, have appeared pretty much throughout the series, so returning players know most of what to expect.)
Missions also have mutators from the base of "All types of powerup, your special weapon charges from killing enemies", such as limited or no drops, or your special weapon automatically charging (You'd think this was a godsend, but no, the challenge usually matches that mutator.) Beating each stage earns you a proportion of the score as points to purchase ships (Ships from later in the series, such as the Murukamo, require a lot of points, so if you really, really want to play those early, expect to grind the earlier missions a lot), and to spend on, if you choose to use a custom ship, powering them up for the mission (just using them is free, but if the mission has a no-powerup mutator, you really want to power them up appropriately, or better, than the preset ship you're given)
When it comes to soundtrack, it's great. The music, as mentioned, has been strong through most of the series, and this one is no exception. Visually, it works well, ships with powerups being denoted with strong, saturated colours, and foreground elements you could conceivably smash your ship against more saturated and brighter than the background, as it should be. The UX is clear, the sound is good (although, fair warning, if you're using one of the older ships, it uses similar sound effects to the games they're from, and changes the soundtrack in some places. They're still powerful, so, er… Don't discount them, even if chiptunes and beepy pew-pews aren't your thing.)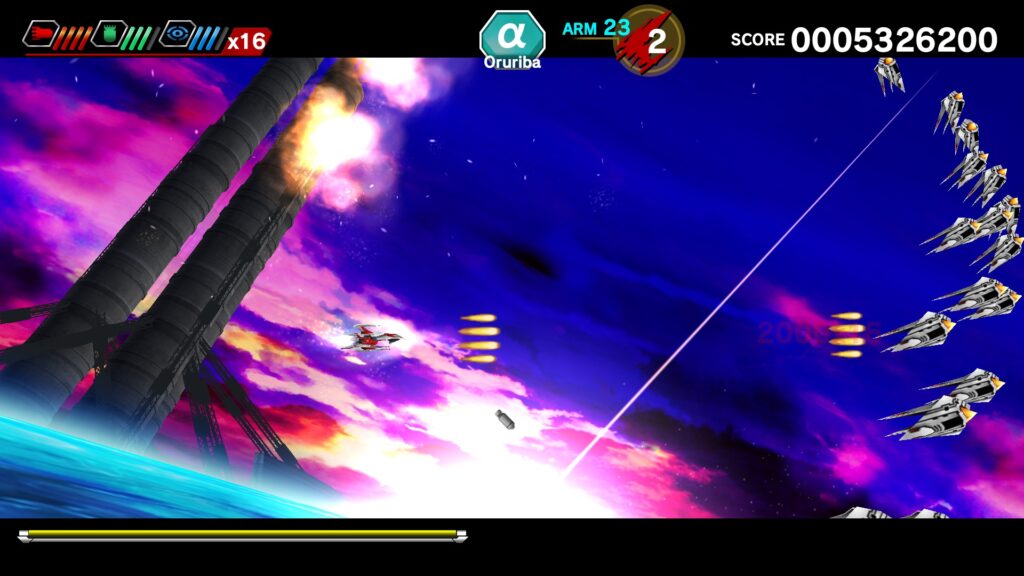 It does get difficult somewhat early, due to some of the bosses having revenge bullets, a boatload of health, and some nasty attacks, but it plays very smoothly for what it is (a port of a PSP game), it's a good shmup with a great soundtrack… My only critique is that there's no english language version of the special guidebook you can get as DLC. I'd love to read that. Ship DLC is pretty cheap individually, and there's certainly enough playtime that you won't feel the need to play with those until you've finished the main game. Oh, and let's not forget that it has both Arcade and Story modes (The mission route mode I've spent most of this review talking about), remote play, and Chronicle Mode, an interesting mode where there are 3000+ worlds on a "cabinet" that you share with other players online.
So… It comes highly recommended as a shmup which, while it gets bullet helly fairly quickly, is interesting, cool, and with a great soundtrack!
The Mad Welshman loves the inventive shooters, with the interesting boss designs. Don't give me boring old "Ships, but big." Give me things that make me say "Omigod, this is a thing I want to share!"