Source: Cashmoneys
Price: £1.99
Where To Get It: Steam
When I went into this game, a divination game similar to… Well, Divination, in which you choose from a limited set of interpretations (of Tarot Cards, as Cartomante would imply) to "deal" with three people's problems… I wasn't expecting to try and solve a gay love triangle of man, their boyfriend, and their pupper (In the werewolf sense, who is also the boyfriend's ex.)
Okay, okay, that's a big spoiler, but, as with any short game, it's kind of hard to avoid them, and… Well, there's several ways that could go. Several cards. Thirty potential endings.
And it helps that it has an aesthetic. Bright, colourful, with an off kilter soundtrack, it feels wonderful and weird, and the three clients are quite the set of characters. A voiceless (?), masked figure with a heavy load. A tattooed man with a ghostly dog on his shoulder. And a bourgeois plantgirl who is utterly blind to the fact her nephew is having orgies in the flower shop she entrusted to him.
God, she really is a bitch, and I'm looking forward to finding the ending to her story where she gets hers. But I did get her to legalise sex work in one ending, so there's that!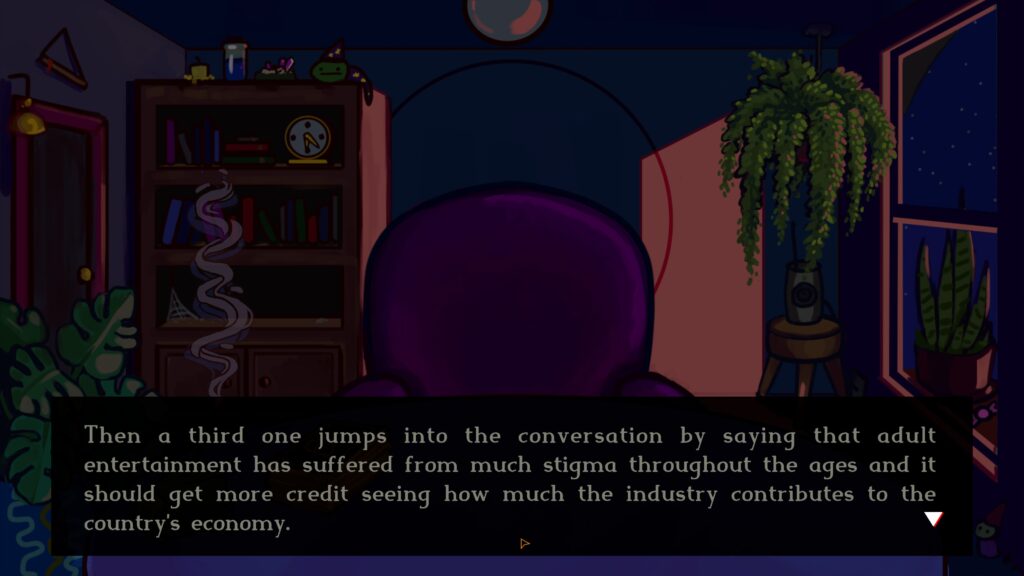 Anyway, yes, the writing is as colourful and oddly off kilter as the game's visuals. Sometimes, you get hints of a very dark supernatural world. Other times, it's a supernatural world where people just casually talk to the Nameless like it ain't no thing, and others, it's an ordinary world with ordinary (and sometimes dumb) problems.
In any case, if you want something weird, with a fair bit of replayability while being short in terms of individual sessions, and like short VNs, well, Cartomante is £2, its sessions are short, it shows when you've picked an interpretation , and one feature I'd really appreciate is tracking what you've got and where, but…Well, as mentioned, it's £2, it's fun, it's got good writing, and what the hey, bring a notebook.
The Mad Welshman seeks advice from the cards on what to if he's secretly 300 bwci bois in a sweater…