Content Warning: This game involves domination/submission, a tentacle encounter, hard oral sex (facefucking), some degradation, one light mind control element, and a trans-lesbian encounter. The game also presents these content warnings as an option before play, and it is recommended you read them beforehand.
Source: Free
Price: Free
Where To Get It: Itch.IO
I've covered, in the past, how NSFW games are rooted in BDSM for the most part. But one thing I've also noted is that many remove that context, be it the all important safeword, or aftercare (and games are nowhere near alone in this.) There's a rhythm, a cadence to a good domming, just like there is in any sexual act.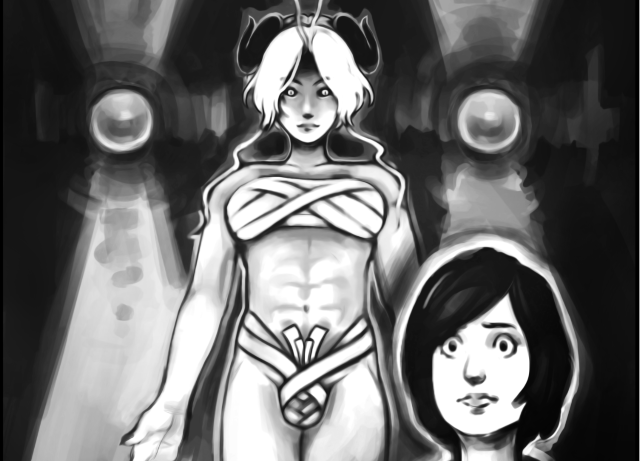 Blood Pact, a Twine kinetic novel by Callie G and Ana Valens, gets this cadence down really well. Felanya, a succubus deity of lust, meets Alexa, a librarian who is about to make… A pact. But a pleasurable one, of love, affirmation, and that ebb and flow of hard and soft. There is even an explicit mention of aftercare, in which a sub and a dom take some time to get out of the respective mental states of dom- and sub-space, and reaffirm that it's a consensual act for both parties' pleasure. Why is it important?
Well, it's a somewhat hard phenomenon to explain, but, effectively, subspace often has a dissociation from pain and more implicit trust of their dom(me) during this state of mind, and domspace sometimes makes dom(me)s even dommier, which means both parties (especially the dom(me)) need to be aware of both this, and when to deliberately cool things down sexually, and tone them up in the loving, caring sense. After all, it's a dom's responsibility to care about the well being of a sub, and in subspace, the necessity of the safeword (Basically, a hard stop signal when it's too intense, boundaries are being pushed too hard, or they're not feeling it, for some reason) seems… Less necessary.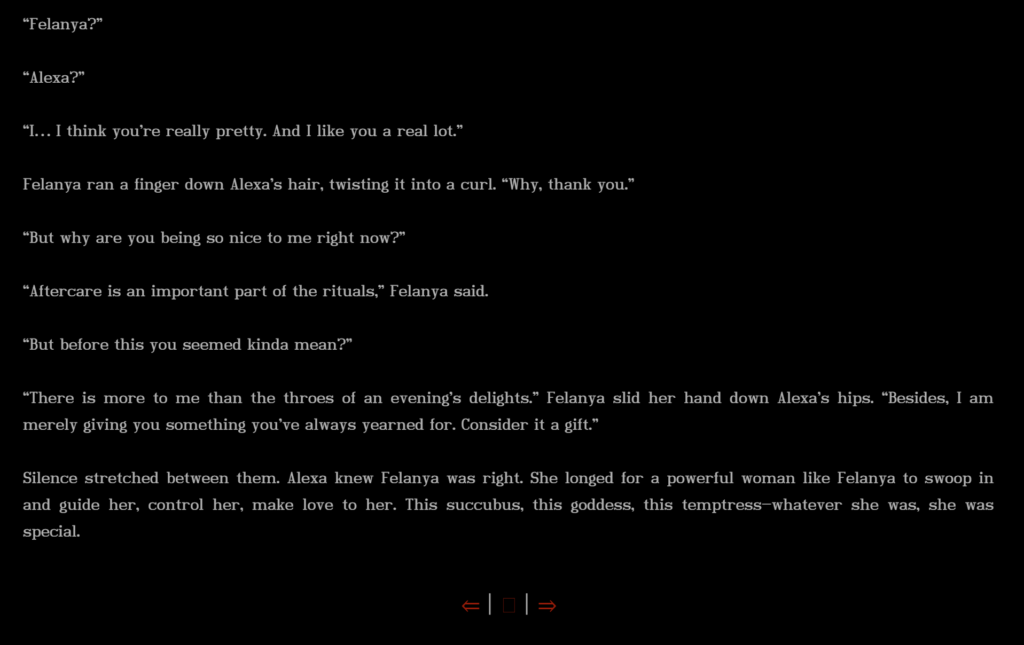 So… Pretty good representation of BDSM, even in a fantastical context. This, alone, is great. But there's other little touches too, for this is a wonderfully queer game. For example, what Felanya feeds on, as a succubus? Estrogen. Nice little touches. One other kink mention is that of a lust spell, and this is also well presented. It's the kind of spell in which nothing is enflamed that isn't already there, and Alexa's lust and desire for Felanya… Well, that's deeply implied from the get go. So… A good example of light mind control elements that are actually well thought out, and engaged with, even as a small segment of the larger story.
You may notice I haven't really talked much about the story. The story is good, and the writing is good, but it's a short game, and so the risk of spoiling it is… pretty high. In any case, how long it takes you depends on your reading speed, and whether you come back to it is… Well, it's if you enjoy it. There's a lot to like here, though, from trans affirmation to some good, heavy and hot domming. A fellow NSFW writer leapt upon the segment in which Felanya talks about how being desired instead of wanted, and how just sex between two women isn't enough, and… That does indeed resonate quite well.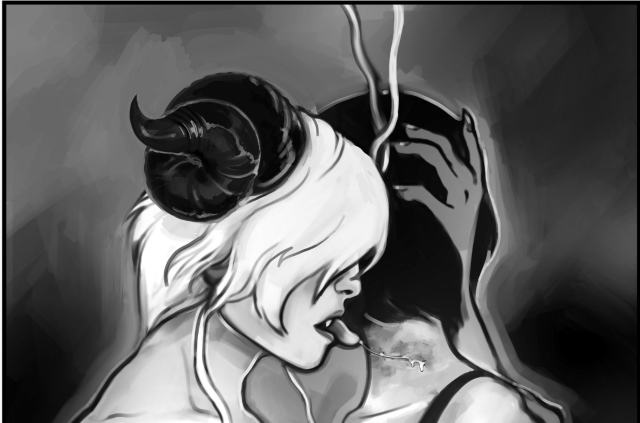 So, overall, it's a good, positive story about two trans folk (one supernatural) engaging in a well presented dom/sub encounter, and I would recommend this.
TMW would like to thank the folks who sensitivity read this article, and educated me on some misconceptions. It's important to get things right. Just like a good domming.