Big ol' Content Warning! Although this game does take an interesting and nonfatal approach to its kink (hard vore, aka "Person gets eaten, and not whole"), it does involve the aforementioned fantastical kink, and, as a result, gore, sometimes heavy gore, although no depictions of this are in the article. You have been warned.
Source: Cashmoneys
Price: Name your own price (Obviously, TMW prefers it if you pay something)
Where to Get It: Itch.IO
It's interesting, to me, the variety of kink writing. In adult games media until relatively recently, it's been somewhat hard to find experimentation that you see in the wider kink community, and one of those experimentations is to make normally permanent or fatal fictional kinks, such as mind control, transformation, or, in this case, hard vore (the devouring of a person in a bloody, toothy fashion), a consensual act with only temporary consequences.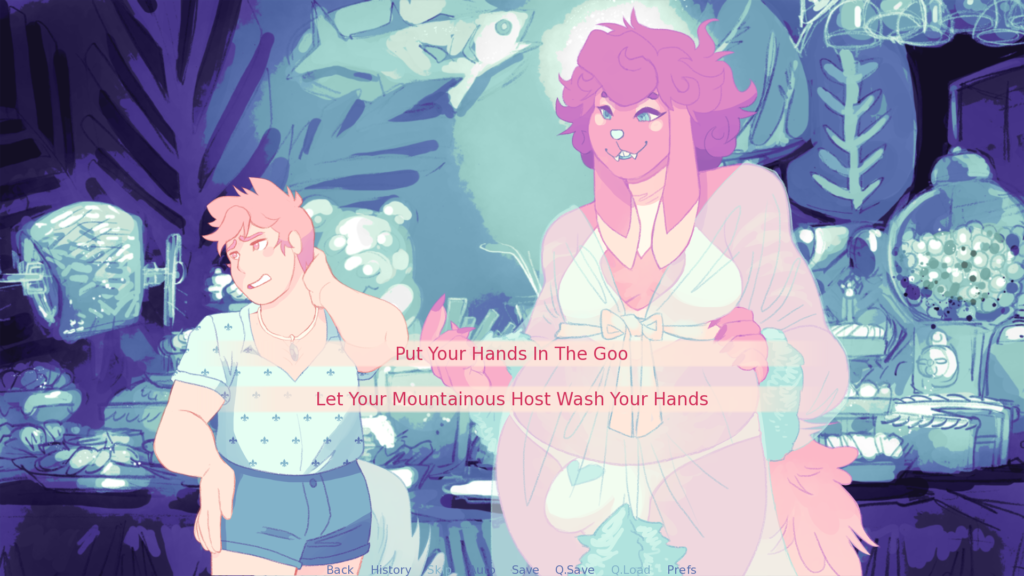 Yes, you heard that right. Being eaten as a temporary state. That's the wonderful thing about fantastical kinks: Because they're fantastical, often supernatural, you can do whatever the fuck you want. So… Let's get into it.
A Harmless bite features two characters, one a seeker of the supernatural (Vienna), one an ancient being created by wizards to eat their foes (Coccolare), who rebelled, and was cursed with… Their victims healing fully, and, if it scared or otherwise traumatise them, they forget about that experience. So, simultaneously, it's still a horrifying (to me) act in the process, and yet… Overall, it's actually a warm, queer narrative.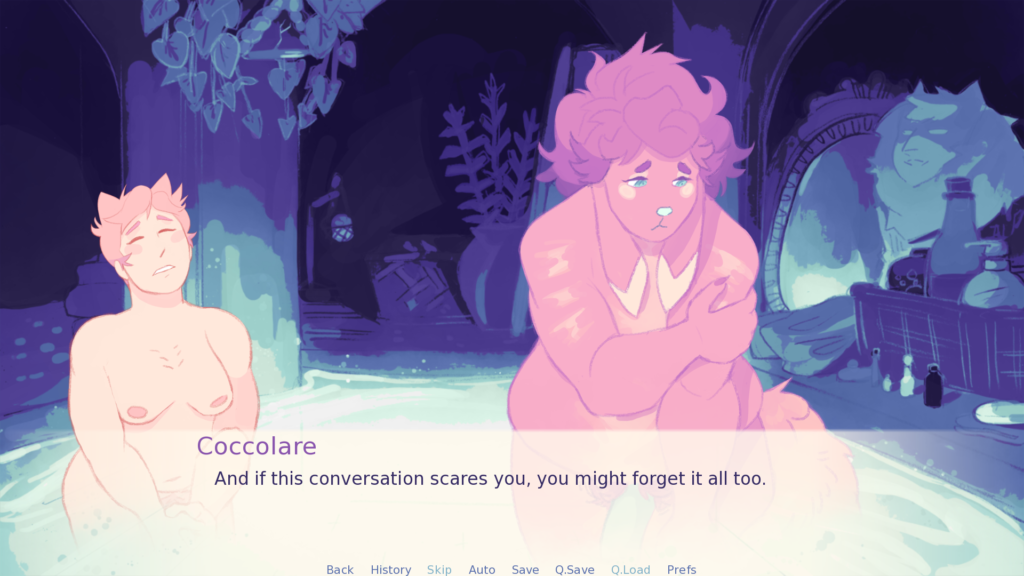 Yes, I hear you goggling. But hear me out. Coco is fully aware that it's traumatic. But she's lonely, it's an integral part of her nature, and… It hurts. Spirits are not like us. They don't think like us, and, throughout mythology, spirits are depicted as being bound by rules that, honestly, don't make sense to us. It's short, but Vienna, the protagonist, and Coccolare (Coco, pronouns ze/zir) actually share tender moments… Well, the being eaten part is traumatising, obviously… But only with the "Decline all" path is it the most obvious eating, and even then… Outside of this, it ends on a warm note.
But, here's the thing… Consenting at different points, at multiple points, or merely the final point of bathing together (the final point alone being a separate path with a separate scene), means a more established relationship, and Coco explains what has been going on to the protagonist, Vienna, in all outcomes except the "decline all" route. I find that one, honestly, a route that could still do with explanation, and this is, to me, the bit that's troublesome, but the rest… That's a better way of handling a permanent kink such as hard vore than I've seen in most NSFW games (There are other exceptions that come to mind, that I may cover in the future), most certainly, although it's definitely a route many have taken in other NSFW media (mostly prose fiction.)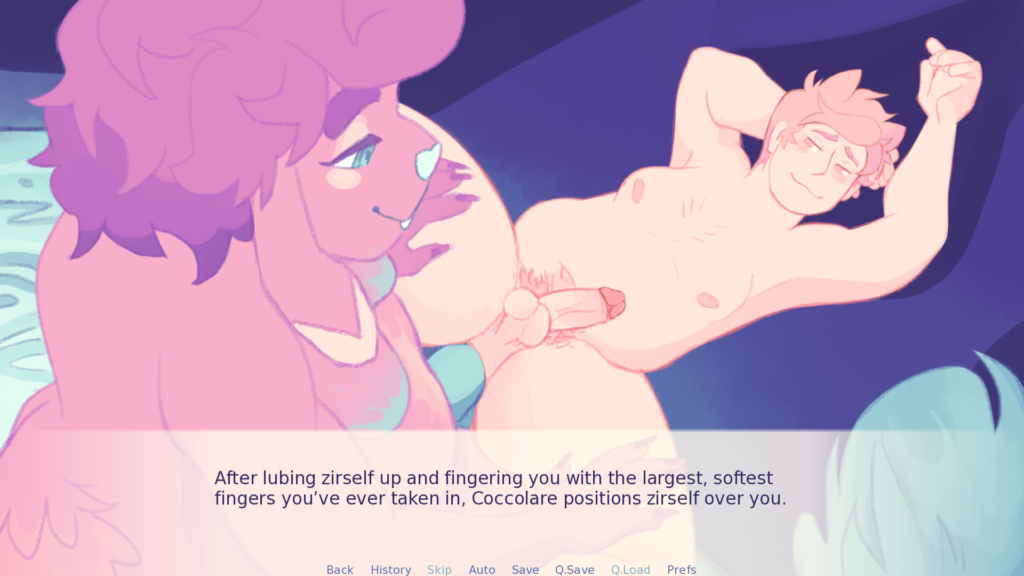 Aesthetically, it's quite pleasing. Fitting music, light while they're socialising, dark and threatening during the act of devouring, and the art is lovely (Well, except when it's not, which is still fitting.) It's also a bite-sized game (Heh), so it doesn't take long to get through, and I do love nice, tightly contained fiction like this.
So, while I very obviously can't recommend it to everybody, as an NSFW game, it's one that's of interest to those making NSFW games, as an example of how you can potentially look at, and present otherwise stigmatised kinks, or just permanent kinks in general, in a different way.
The Mad Welshman would like to state, for the record: If you read this far just to be offended, save yourself some time and bog off. I don't write about things I don't feel are worth talking about.