Games today are tricky business, and it's no lie to say customers are dissatisfied with corners cut in the process. Shoddy launch releases, DLC of dubious value (or worse, good DLC that might as well have been part of the game itself, because it was pre-sliced into "Game" and "DLC" for pre-order cash), and… Framerate locking, the practice of making a PC game have the same frame rate (which can affect physics, control responsiveness, and fluidity of animations) as the consoles because… Well, the reasons vary, but not very many of them are good. But one Steam curator has tried to point these games out as they come, TotalBiscuit's The Framerate Police
There's just two problems with this. Firstly, he hadn't considered all the possibilities… And secondly, he hadn't considered that there is a segment of gamers out there willing to harass and aggro over things at the drop of a hat.
Framerate Police came to my attention when the creators of Guild of Dungeoneering (A game I should be reviewing soon.) posted a tweet basically saying "Alright, you can stop sending death threats, I've mentioned that the game runs at 30 FPS!"
The ridiculousness of the situation almost immediately hit me, because Guild of Dungeoneering is a turn based game with some animations. Y'know, the kind of thing that doesn't need 60 FPS and 1080i visuals. In fact, it looks quite charming on its own.
And yet, some idiots decided it was perfectly okay to send threats, harassment, all kinds of aggro their way, because… REASONS. It becomes even more idiotic when you look at some of the other games curated, and how the reviews actually work. Here's some examples of both at the same time.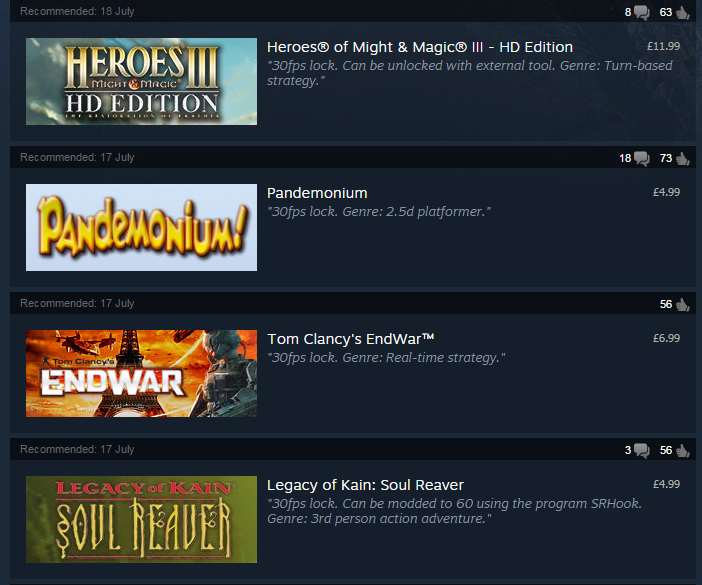 Okay, so what's wrong with this picture? Well, let's start with Heroes III HD. Yes, okay, it's a modern "remaster"… But again, turn based, so no physics, no reaction times, no actual need for 60 fps. Pandemonium is even worse, because it's from the fucking 90s. So, in fact, is Legacy of Kain: Soul Reaver. These games originally ran at 30 FPS, folks. ORIGINALLY. They were PS2 games, and ran at 30. F. P. S. So, in fact, did many of our original greats. Secondly, do you see any "PLEASE HARASS THESE PEOPLE"? No? No. All it is is a list of which games are 30 FPS, completely disregarding whether they were originally 30 FPS (or less!), and nothing more.
So let me make one thing very clear: Seeing as, at no point that I'm aware of, TB has asked any of you to do this, you've done it of your own volition. You have harassed because you genuinely think that a game in the Year of Our Lord 2015 cannot, under any circumstances, not need 60 FPS on PC. Yes, when a modern game does it out of laziness, it's shitty. Guess what? Still not a reason to harass. You harass over a game, and you are Being A Shithead. Lemme spell this out for you in a way you'll understand:
THERE IS NO GOOD REASON FOR SENDING SOMEONE DEATH THREATS. THERE IS ESPECIALLY NO GOOD REASON IF THE GAME, LIKE THE MAJORITY OF GAMES ON THIS LIST (WHICH ARE FROM THE 90s, OR TURN BASED, OR PUZZLE GAMES) DOES NOT NEED 60 FUCKING FRAMES PER SECOND.
"But 60 FPS is objectively better in ever-" No. It is not. There will always be situations where you do not need 60 FPS. I agree that frame locking a game can be a pain in the ass. I agree it's an alright idea to tell people which modern games are frame locked. I do, however, think this was done without thinking it through solidly. "Framerate Police"? Kinda implies the people frame-locking are always bad folks of some description, TB, old chap. And no context beyond genre? This, if anything, shows the importance of context. Of knowing, not just "Guh, 60 FPS gud…" , but when it's good… And when it's just a pointless frippery.