Source: Cashmoneys
Price: £11.39 (£18.58 for Deluxe edition, £7.19 for Deluxe Content DLC)
Where To Get It: Steam
Pinball is, in the physical world, almost an artefact, an anachronism vanishing into the historical distance. Wires, magnets, rubber, LEDs… But for an entire generation, they were a cultural touchstone. In the digital world, however, they still live. And the best of them take advantage of their medium, to do things that would likely be impossible with physical pinball tables. Both, however, can get a little arcane if you try and describe them mechanically. This ramp, followed by these bumpers, followed by this ramp, and then this ramp again, earns you… But This ramp, followed by this ramp, earns you a quick bonus, and if you can repeat that same trick fifty times…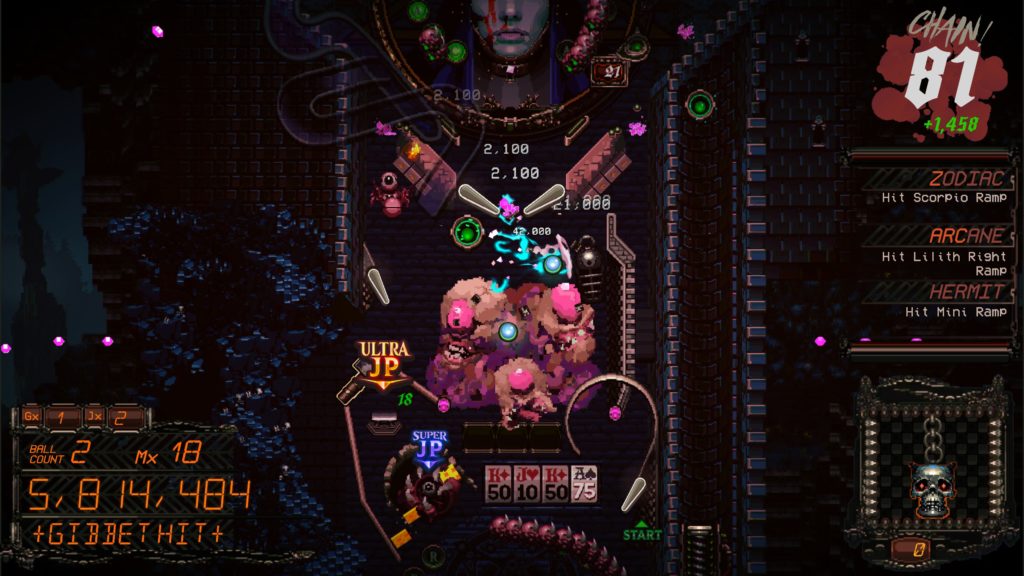 So, it's fairly safe to say I won't be saying much mechanically, rather than what applies to all pinball tables: You hit the ball with the paddles, using what you observe of the ball's physics to hopefully hit what you want, keeping it from falling "out" of the table. The ball falls out three times (or one, in Hardcore mode), and you lose.
Demon's Tilt (Heavily inspired by games like Devil Crush or Crue Ball), specifically, adds a few things we haven't seen in a while. It's a Goth. Synthwave. Bullet hell. Pinball game. Now, don't run away, it's not as intimidating as I make that out to be, just… A lot to unpack!
Still here? Whew. Okay, so two of these are, essentially, aesthetic. Pentagrams, liches, and undead lions in iron masks mix with synthwave style neon splashes for score, jackpot, and other notifications, all to a hard driving, Sega Genesis style soundtrack (Itself having diverse motifs: Little bit of OutRun feel for a few bars, tiny bit of Castlevania for another, while still meshing really well.)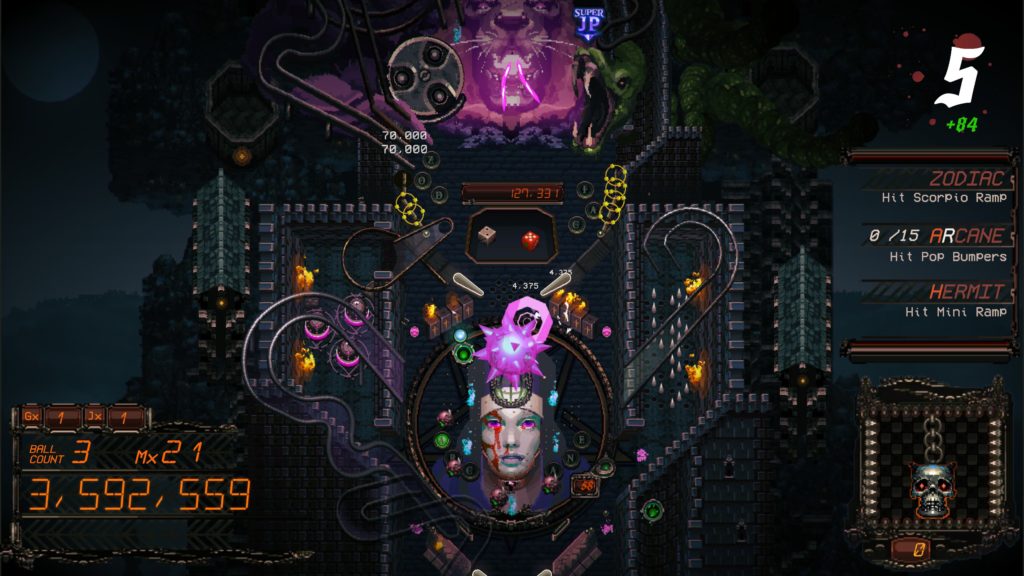 The "bullet hell" part is interesting, because, while the bullets kill momentum, they only get spawned under certain circumstances (Hitting one of the table bosses in their mid to late stages, for example), the enemies are mostly weak (and only kill downward momentum, which is really helpful), and, to help counter these extra considerations, the game's tilt sensor (An anti-cheat measure, originally to ensure you weren't just lifting the table and tipping the ball where you wanted it to go) is quite generous (to the point where it recommends you use tilt.) Although, like any pinball table, it can get pretty twitchy (and dealing with the twitchy portions is a key to mastery), the bullets are pretty slow, and thus, dealing with them is more a matter of perception, of thought, than of reflexes.
Finally, of course, it is a pinball table. While its table guide is a little sparse, the game helpfully tells you its Letter Goals (for the words ZODIAC, ARCANE, and HERMIT, aka LOADSAPOINTS, LOADSAPOINTS, and LOADSAPOINTS), and the UI is laid out fairly sensibly, with the central focus being… The three tiered table, each tier containing its own enemy spawns and bosses. Kill a boss's multiple stages, and you get big points, before it returns the boss to its lowest stage. On the one hand, there's a lot to parse, but it becomes almost second nature to identify certain things: Here's where the jackpots are. Here's the teleportals. Oh good, the untouched bumpers for the top-tier letter goal are highlighted, nice job!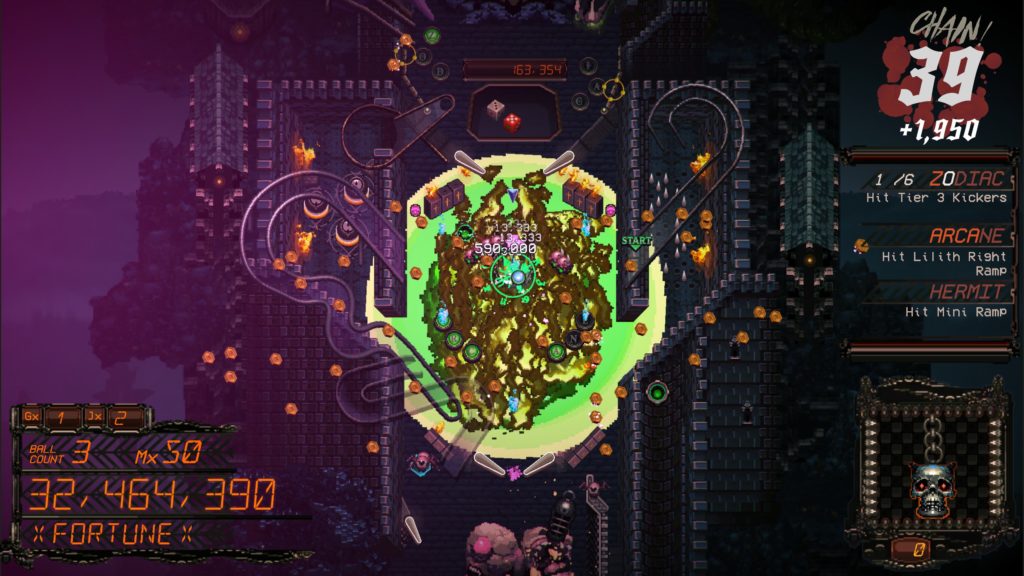 There's some minor performance issues, but, for the most part, that's Early Access, and this is a well-polished, high-octane table that nonetheless gives you a little breathing room as it goes. Well worth a look for pinball fans, and, if you're interested in how digital pinball tables can change the base formula in interesting ways, this one's one to watch out for too.
The Mad Welshman Devil Crushed this review, in his opinion.