Source: Cashmoneys
Price: £17.99
Where To Get It: Steam
Warhammer Quest has always been an odd one, for me, even among the many, many adaptations and games Games Workshop has put out over the years. A series they supported fairly well (From its earliest days as Hero Quest, to Advanced Hero Quest, to Warhammer Quest), it showed an aspect of the setting you'd think they'd have dealt more with, outside of some of the fiction, the groggy Fantasy Roleplay, and… I suppose Talisman counts: Adventurers.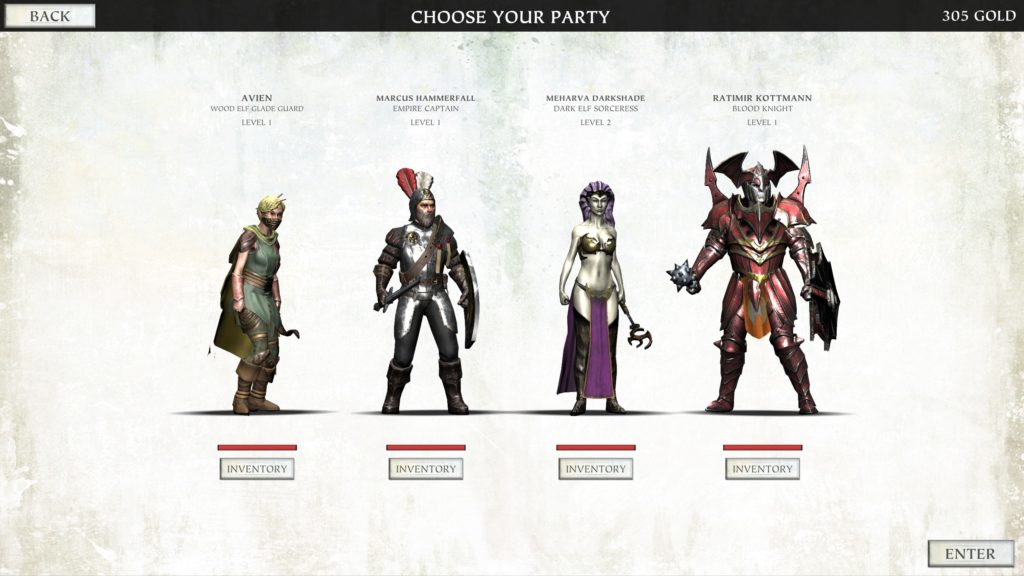 I mean, you'd think Games Workshop would understand the appeal. But despite a fair amount of support, Warhammer Quest is one of the lesser lights of the studio. And the times it's been adapted, it's been relatively faithful.
Funnily enough, this is another one of those times where that's precisely the problem. Because Warhammer Quest is a game that loves its random encounter tables. More specifically, hot damn it loves it ambushes. To the point where, very early in the game (approximately the fourth story mission), I was travelling from the dungeon to a town, got ambushed by around 12 Beastmen along the way, killed a few, and… Then got the text that presaged the ambush getting more ambushy with 5 more Beastmen. Considering one of my two heroes allowed for the ambush was downed the round before this happened, I noped the hell out. INJURY: Thankfully no permanent damage.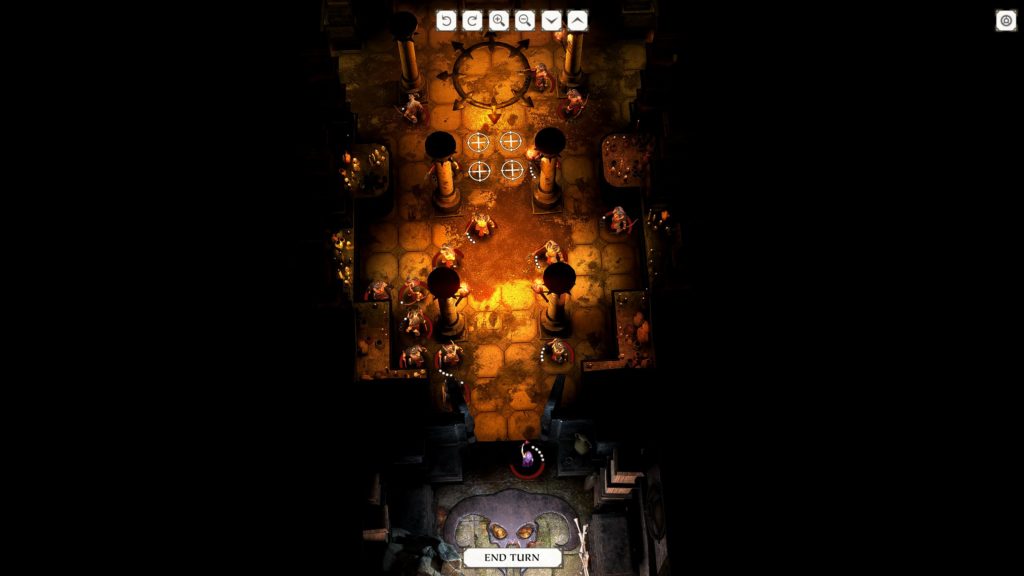 Yes, if one of your characters gets downed during a quest, there is a chance they will get injured, although this can be repaired by… Levelling up. Healing items are relatively rare, and take time to use. Taking time means more turns for the dreaded AMBUSH. More turns for ranged enemies to plink away at you. And meanwhile, a lot of things are beyond your price range, from better heroes, to better equipment. It does get sort of easier by the end of the first act, but characters will get downed, and the game seems to take glee in arranging this. Yes, I know, games don't have feelings. But that is the feeling I ascribe to it. It does help that often, side quests have vastly better rewards than main quests, but that… Doesn't exactly help, considering the main quests are what you're incentivised to do…
Still, you may note a 2 there, and while Warhammer Quest 2 inherits some of the problems of its predecessor (The aforementioned Ambush fetish, level design which means you're often choosing between party cohesion before the next door, and the chance of MORE AMBUSH, expensive gear that makes the early game feel a lot more punishing, partly perhaps from its mobile, microtransactiony roots, mostly from the random tables Warhammer Quest was well known for), it would be disingenuous to say that there hasn't been improvement and change.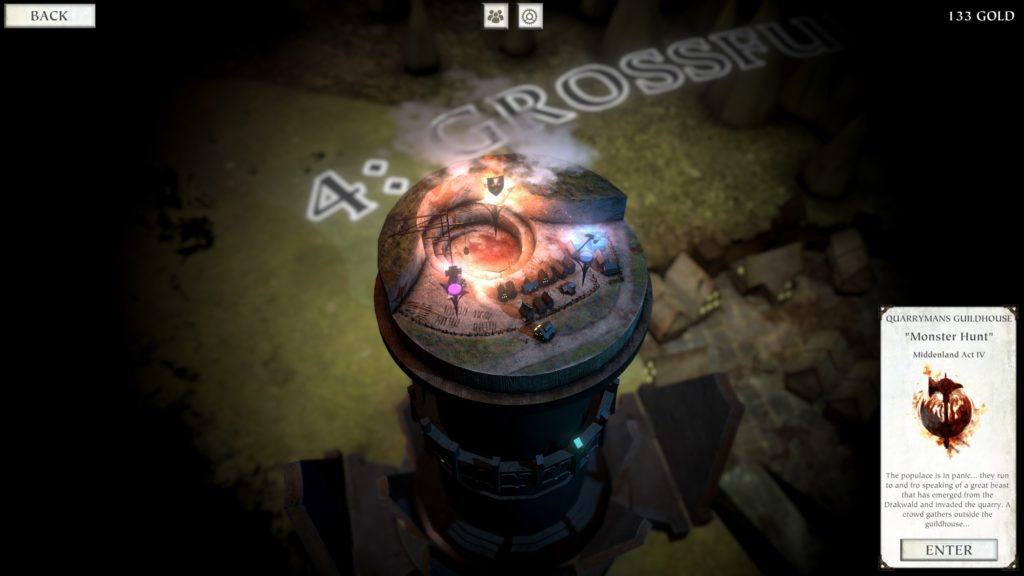 For example, while there are still some control frustrations (occasionally clicking a space instead of ending your turn, having to remember that the game thinks you're looking at an enemy instead of shooting it again if you've shot it with a ranged attack, then don't mouse away before clicking again), the UI is a little more clear, and a little more visually interesting… Although the Town UI has taken a slight dip from "Functional" to "Stylistic, but less functional." Camera movement is a definite improvement, although walls obstinately refuse to get out of the way, meaning that you're mostly going to be looking downward anyway, and, setting wise, putting the game in Warhammer's End Times period (When Archaon, Chaos Lord, royally screws things up) helps explain why such very disparate adventurers are banding together. A Dark Elf Witch of Naggaroth, one of your first two characters, is, at any other time, perhaps the worst choice of travelling companion. Once it gets going (about halfway through Act 1), it does feel easier, and, as a result, your group feels more powerful, but ambushes remain at best an irritation or delay, and, at worst, a very unwelcome addition to an already dangerous fight. Finally, not every town has every facility, and this starts being felt once you have to deal with long travels (and thus, random events) every time you want to level someone up, but a town doesn't have the right facilities.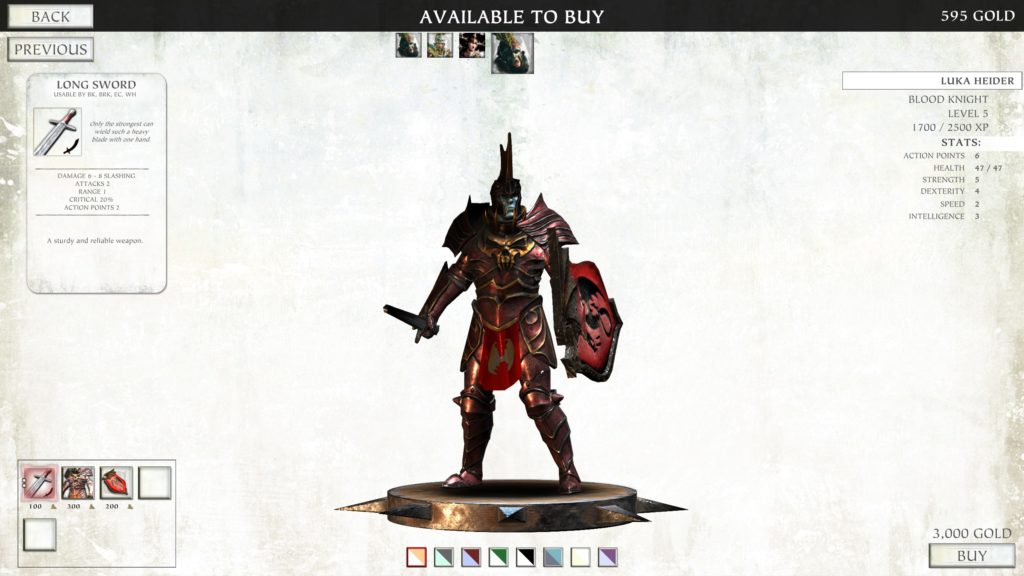 Model wise, some are better than others (It does seem women get the shorter end of the stick, both in terms of how many women characters there are, and the relative quality of models), but all are at least okay, with the caveat that customisation choices are very limited, and only the first weapon equipped seems to affect visible representation (Armour does vis-rep.) The music's alright, with some tense violin led numbers, and other, dramatic choral pieces, and the world's stylisation does give it more character than the previous outing, looking somewhat like a tabletop map, complete with layered bits of terrain.
In the end, while Warhammer Quest 2 gets friendlier a little quicker than its predecessor, enjoyment very much depends on how well you deal with the dominance of the random encounter elements of the game. It's definitely an improvement, and I can see myself playing it in short stints, but, sooner or later, an annoying ambush happens, or the game drops poor plot rewards once too often, and I peace out.
It is the End Times of the Warhammer universe. Brother fights against brother, the vile publishers seek to bleed the Empire dry. In this dark fantasy world, there is only… Game Reviews.