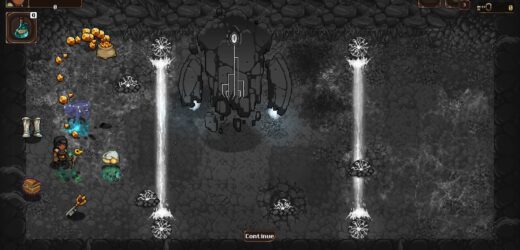 Source: Cashmoneys
Price: £15.49 (Soundtrack £3.99)
Where To Get It: Steam
Other Reviews: Early Access
In a land with a great wizard, and quite a few warriors, clerics, etcetera, who's going to save the day? Who's going to stop the evil sorceress or what have you from bringing back an ancient evil? Who's going to clean up the dungeons and stop the earthquakes?
One of a cavalcade of largely identical and disposable peasants. That's who. And they pay the company store for their equipment. Yay capitalism! (Not yay at all.)
And yes, that is basically the setup for Undermine: You are a peasant, who is very handy with a pick and has a gold hauling canary, and if you die, well, another, sometimes eerily similar peasant drops into the dungeon to have a go, trampling figuratively on the backs of those who died before them.
Which, for a shooty slashy roguelike sort of game with rooms filled with traps, enemies, gold, and the cute slimes that try to steal that gold when you mine it (oh, and bosses and shops, obviously), is actually a blackly hilarious setup. Instead of a dodge roll, you have a special power. An amazing power.
Peasants are the only buggers in this world who can jump. Take that how you will. In any case, swinging your pick, throwing your pick, dropping bombs, and occasionally chugging potions are your absolute basics here, along with "If you die, you lose some of your gold, and can either spend what's left on improving yourself, or going right back in in the hopes that you make enough gold to get bigger improvements."
It's a tried and true method, and, honestly, it works really well here. The visuals are good spritework, the menus are clear, the enemies are interesting… And the bosses… Ahhh, these are some good quality bosses. Just qualifying enough in the category of "A Shower of Bastards" to make you hate them, but you get the idea of how to beat them pretty quickly. It's just a matter of doing it. The difficulty curve is pretty fair… This is one of those games where it's tightly designed, it's fun, and I'd have to look really hard to find something I'm actually critical.
And I have. And I've failed. So… Undermine: If you like procgen twin-sticky collected arenas-as-dungeons games, then yes, this is a good pick for you. I wouldn't necessarily say it would be a good game for dipping your toes in the water to see if you like it, but I also wouldn't say it's a bad place to start.
And that's Undermine. Eat the Wizards.
AWAB, is all The Mad Welshman has to say.