Source: Cashmoneys
Price: £5.19 (£7.87 for game + soundtrack, £2.89 for soundtrack)
Where To Get It: Steam
There's little I love more than a relaxing puzzle game, with chill music, that makes itself clear from the get-go. And then adds things that you can't help but experiment with. I also quite like beautiful flowers and grassy landscapes (And, indeed, I pay the price for that pretty much every summer. Hey ho…)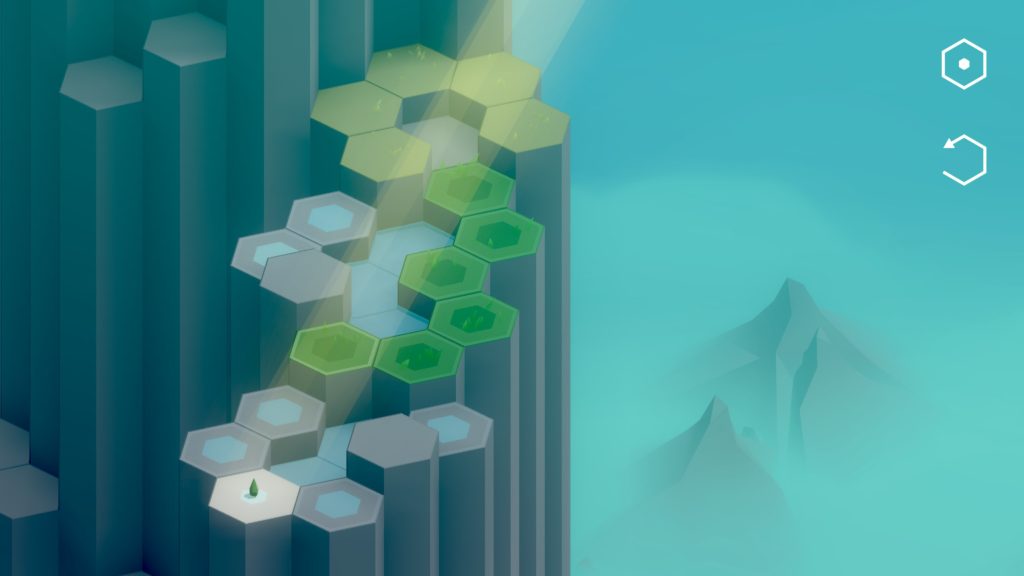 So Spring Falls, a game about, essentially, trying to make water fall in such a way that the grass grows in a line around your water… That leads to one or more flowers. Of course, the falls part becomes obvious pretty early on… You have limited space to work with, and, being on a cliffside, if the water falls off the edges, or falls lower than it needs to to water a plant… Well, might as well restart. And, for the most part, you can only pull hexes (for lo, tiles are hexagonal) down. Well, mostly…
A nice, simple premise, no? It adds things later on, but let's take a break from that, and talk about the game's aesthetics. It's pretty, a minimalist kind of pretty that's also clear, and the music is so very relaxing… Sound wise, there's not a lot, some stings, flowing water sounds, and pops… But there doesn't need to be a lot, because what sounds there are are both clear and pleasant. Indeed, the puzzles use some pretty restricted space, in order to get you to focus on a relatively small number of moves. Hrm, this cracked clay sort of block, what does it… Oh! It rises when it's watered! And, from then on, bam, you know what it does, and can immediately identify it.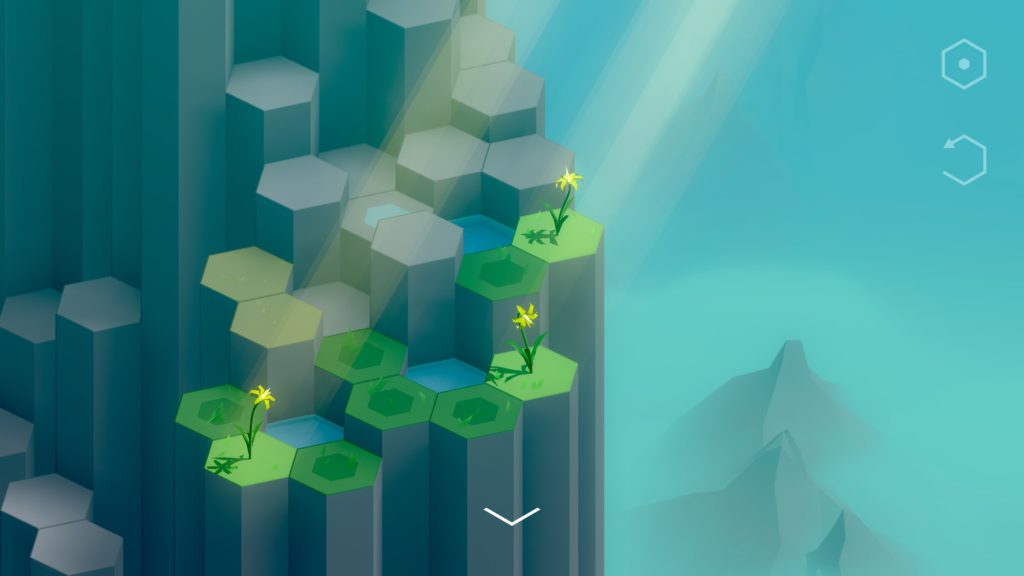 And the game tutorialises pretty damn well. At first, the clay block rising was a good thing. But then it got in the way, and I could see no way around it to the flower, except… AHA… It can be dragged down not only one level, but to its original height!
Beyond this, and a problem I seem to be seeing a lot this month (That the volume can't be manually adjusted in game, only the sound turned on and off), there really isn't a whole lot to say about Spring Falls, precisely because it's a tight puzzle game where the objective becomes clear from the get go, so all you have to do… Is relax… And think. You've got all the time in the world. Drink it in, like a flower.
The Mad Welshman, even with his hayfever, appreciates flowers. So many lovely sights and (ACHOO! …sniff) smells…