Source: Cashmoneys
Price: £18.99
Where To Get It: Steam
Other Reviews: Early Access 1
When you can tell a release candidate is a big step up from its Early Access, it's not only a pleasant feeling, it's a relief. A game you can point to and say "Nice, I enjoyed this!" And Oxygen Not Included, having rebalanced and added More Stuff to the usual Klei brand of "Games I Love, But Seem To Dislike Me (While Being Enjoyable To Play)", is definitely one of those kinds of games. What interests me most about it is that it also retains that feeling of a slow fight of attrition against a difficult situation (Being trapped in the middle of an asteroid, with Oxygen in limited supply, and the means of making it in potentially limited supply, and… Look, there's a lot of things I could affix "In limited supply" or "Of limited effectiveness" to, from food to water to power, and beyond.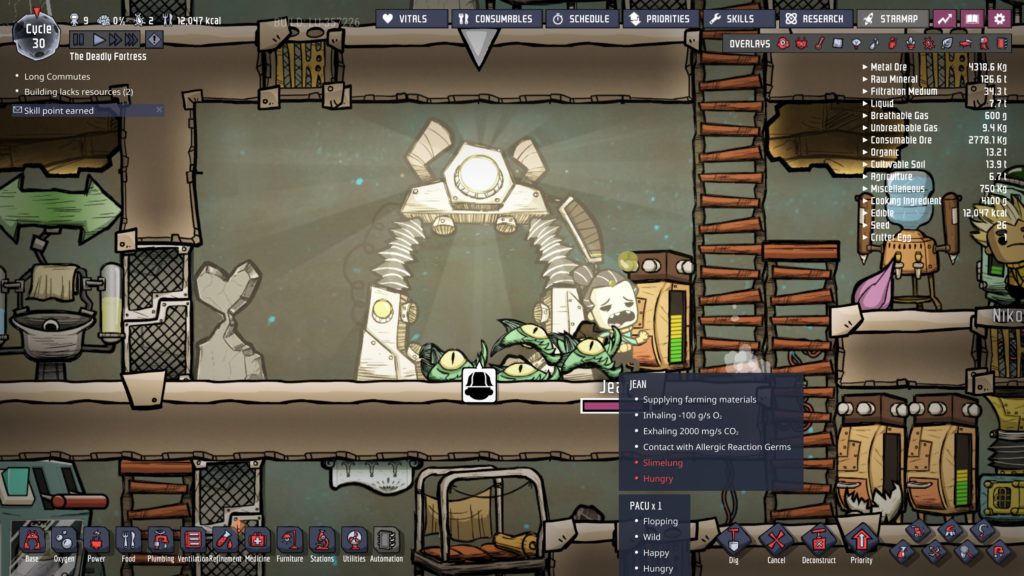 But it's not insurmountable, although it definitely feels that way in the early game sometimes, and the game rewards you for that struggle, that fight for survival, with cool things to find, and more information about why you, for some reason, are squeaking, honking clones, finding yourself in a tiny space at first, with absolutely no context beyond "Hey, you'll die if you don't work at the whole staying alive thing! Chop chop!"
And a part of what it's added, although part of that may well be me having gotten better at things (With the exception of wiring… Le sigh) is that you get to see it more, before it starts pulling the gloves off. And, for players who want a challenge, or just a change, there are several different types of asteroids to be trapped in, from your bog standards, to your boggy standards, all the way to "Oh heck, why did someone even do this, putting us in this hellhole to die?"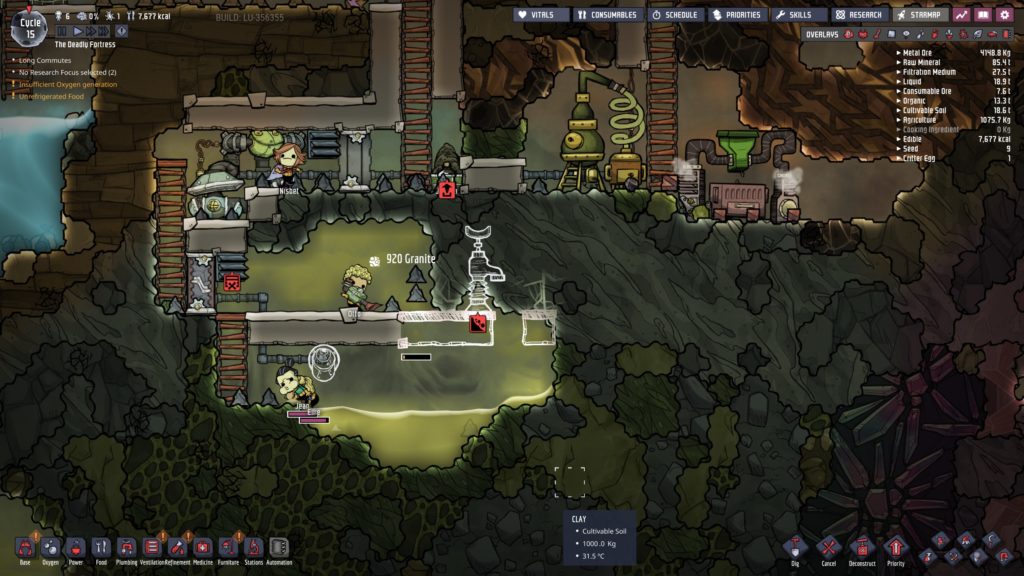 Now, overall, it's indirect management. I can't say all of it's good (It still, oddly, has the speed settings as a sort of throttle, so to go from "somewhat fast" to "normal" is two taps, but I can somewhat forgive that, especially as the sleep period seems to go by quicker), and reading tooltips is a must, but… Scalable UI. That's good. Clear fonts. Cool. And very little that seemed to affect colourblindness, with the tooltips aiding in letting me know "This is coal, this is granite, and this is a chlorine filled mess you'll probably have to go into with insufficient protection, because there's useful things here. Hope your air plan is gooood, LOL!" Finally, there's been some streamlining. Research is more clearly delineated, and levelling up a Duplicant is now at the base duplicator, rather than a thing requiring its own research. Nice!
And it's these things, these seemingly small (But actually kind of big) changes that make the game friendlier, without, obviously, being too friendly. You'll still, eventually, have to do dangerous things, overstretch yourself, and bar some duplicants from using machinery just to cut down on their commute. And you'll still, occasionally, be yelling at them, despite a priority system, to "Argh, fix that, fix that, you're going to be in trouble if you don't AAAARGH."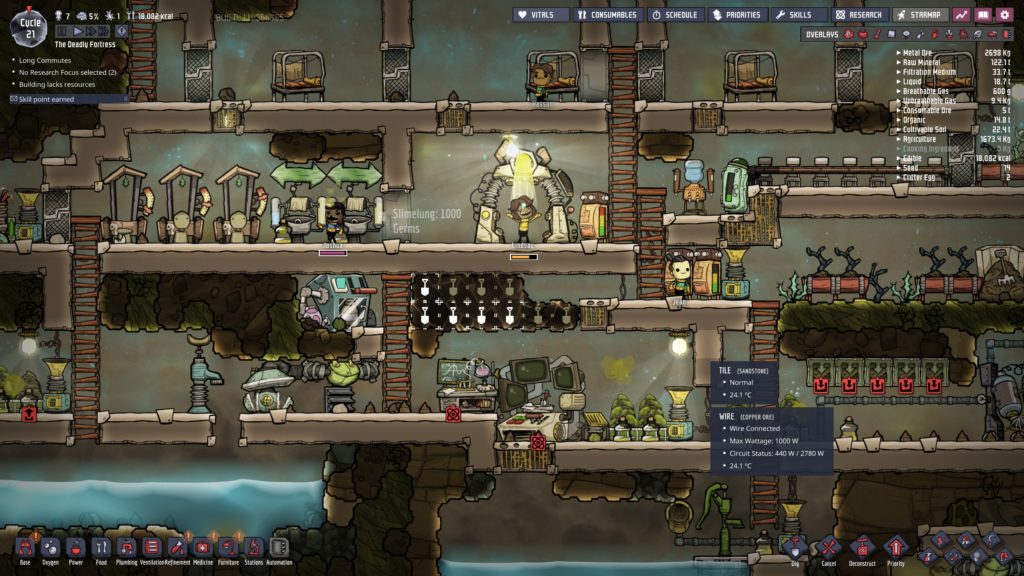 But, for the most part, outside the really early game, that AARGH is a slower process, a process you can come back from, if you keep your head together. And, since Oxygen Not Included was already interesting and charming, not pretending to be anything other than it is, it remains highly recommended to fans of these indirect management survival games.
Just don't come crying to me if your wiring overloads and starts a fire. Not least because I won't be able to help you either.
No, really… The Mad Welshman sometimes has trouble remembering whether CHA FAN is a usable motherboard socket for… A fan. Don't ask him about wiring.