Source: Cashmoneys
Price: £11.39
Where To Get It: Steam
Minesweeper. A logic game as old as Windows… Well, older than Windows, actually, but it was popularised (sort of) by its inclusion in Windows 3.1, right up until the present day. And the formula hasn't changed. Like, at all. Click a square. Is it a bomb? No. Is it an empty space with empty spaces around it? Those empty spaces will auto clear, until, at the edges, there are The Numbers. The numbers that tell you how many Mines are adjacent. And from those, you have to deduce… Where the bombs are. Hit a bomb, welp, you die.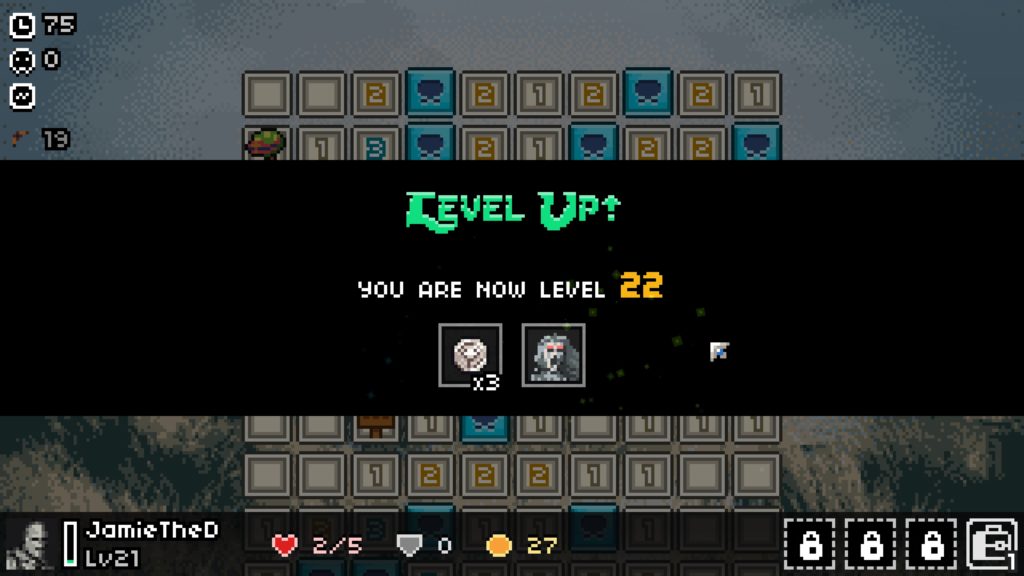 Why am I explaining this, a thing known to many a person who just… Has a PC? Well, Demoncrawl is Minesweeper… But it's also a roguelite, a game with progression once you lose, shops, items… And Hit Points. That's right, you can fuck up more than once. Well, in Quest Mode. So long as the monsters (your new Mines) aren't strong, and roll high on their damage, one shotting you. Or you're sucking wind on hitpoints, in which case, welcome to Classic Mode in Quest Mode, sucker! But it's okay, you can get magic items, and buy them, and there are strangers, people who'll help you, and…
Look, it adds stuff to the Minesweeper formula, and it makes it still tough, and indeed some items (Omens) and status effects in dungeons make it tougher, but it also makes things more interesting. In a good run, I was collecting more gold than I knew what to do with, and when I had trouble, well, I had a magic bow, an explosive boomerang, a summoner of minions who would at least expose monsters, even if they didn't kill them to make my life that much easier.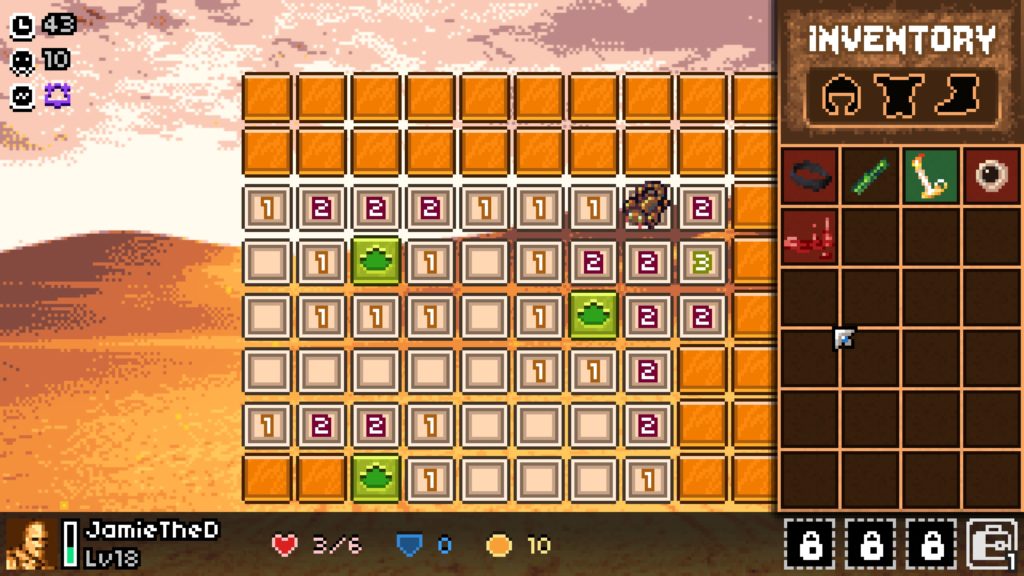 On a particularly bad run… Well, let me explain the screenshot above. 3 curses in my inventory. One means there are ten more monsters on the board than normal, and there always will be until I get rid of it. One is "Chance of loot (at all) halved" … And this just after I'd gotten something that tripled my chances of a legendary item. And finally, "Levels always have at least one status, which is random." And that random status? I lost an item on my first turn, and could have lost more. I was in deep trouble.
Somehow, I managed to solve it, and said "Fuck it!", took a teleporter to a random level… And promptly died. At least I got a few tokens for buying new legendaries to drop, customisation stuff (mostly minor), and better chances at more tokens so I could buy them quicker. Oh, and a mummy avatar. I now have Resting Mummy Face. In EGA, no less. And all this is without mentioning other fun things in each level, like merchants, a very Audrey like plant that will give you things (in exchange for a lot of items), the Chaos Forge that… Well, adds chaos…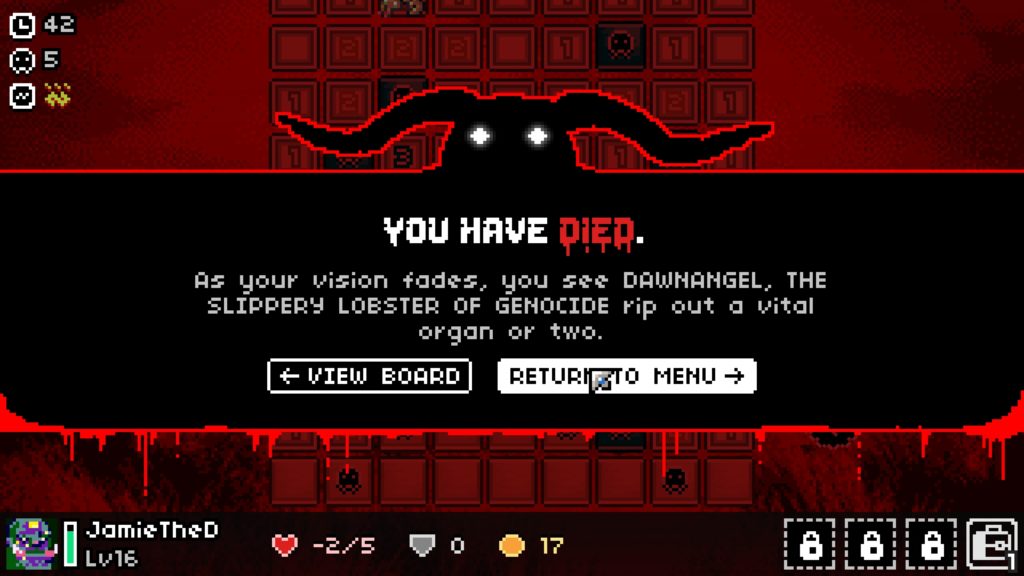 To sum up, it's an interesting take on Minesweeper that makes the game more enjoyable, has a fair amount of replay value and things to find, and I would recommend it for folks looking for a logic puzzly, rogueliteish time. Or one of the two and exploring the other. I've definitely enjoyed myself.
I am… Very bad at Minesweeper. It is embarassing.