Source: Cashmoneys
Price: £10.29
Where To Get It: Steam
Let's get one thing noted right now, because I know this is going to turn folks off: Archeo – Shinar is a game with the theme of 1920s archaeology, which, as fans of history may know, was colonialist as hell. The game embraces that as a thematic element, so you are not playing some philanthropist, but an asshole, employing assholes, exploiting land, meddling in ways that distort history, and the like. So be warned.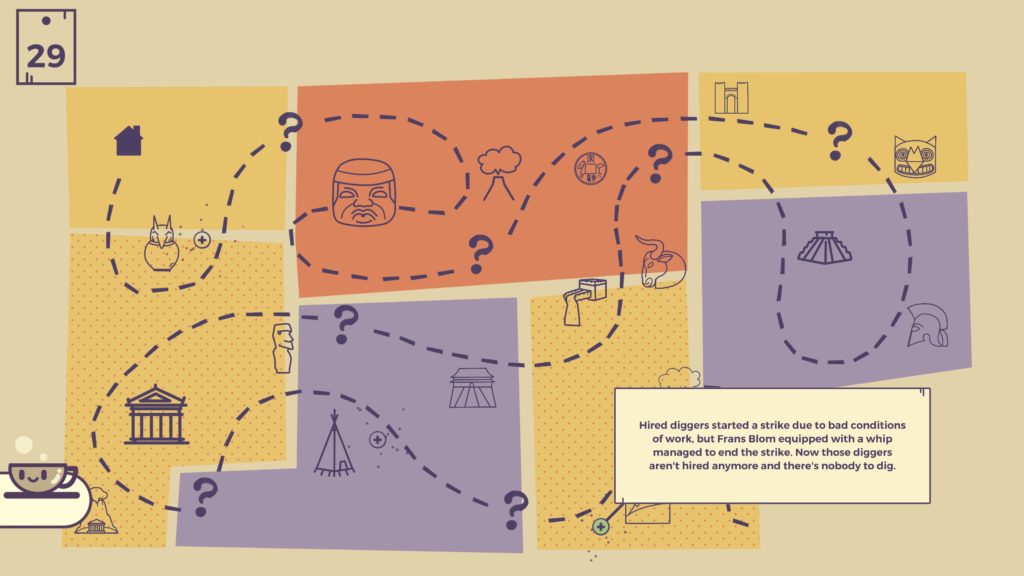 Fortunately, it… Honestly isn't the most engaging of games on its own. Essentially, it's a 30 turn game, with two main segments: Planning and Management, and Expeditions. The planning phase is the meat of the game, but the expeditions are what mainly earn you the points, events, and interest of the game, with the expeditions being… Well, what your planning went toward, with some added risk management thrown in. Do you use the person good at Archeology now, or do you save him for a potential check down the line that might be much harder (or use another skill which you weren't warned about, because he's a really good everyman.) Succeed more than you fail, and you win reputation and money for your shameless plundering (earning artefacts you can sell on the black market for big successes, and phobias, debuffs for your explorers, on essentially chance.) Fail, and you get recompensed a small amount… Probably smaller than what you spent on it.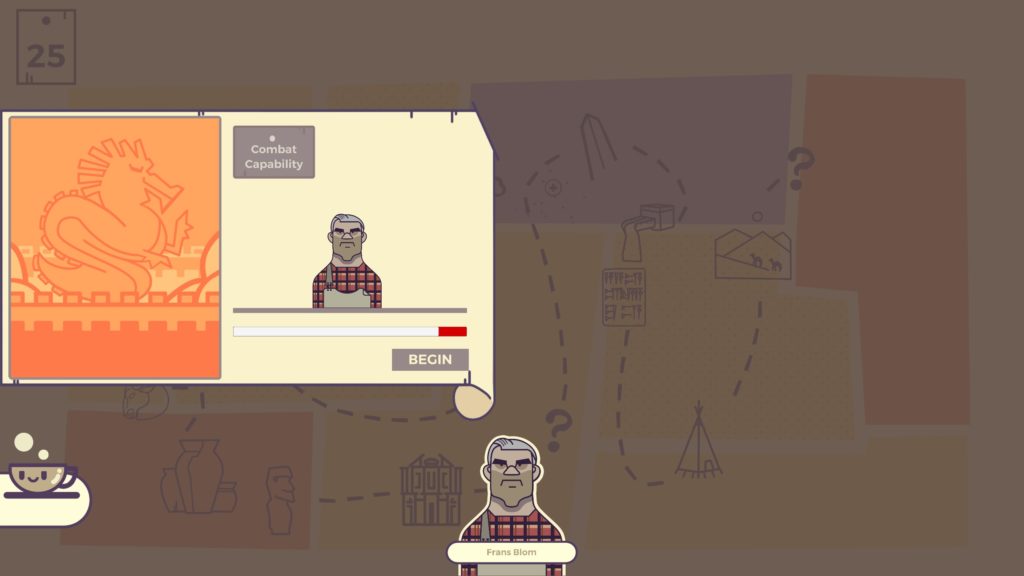 Meanwhile, the management is where most things happen. Do you try and sell your story to one of the papers? Who do you hire? How do you train them? Do you make them take more risks, or play it much more cautiously? What do you bring along? And what land do you bid on, to exploit for bonuses down the line? In all of this, reputation is important. Build up a good rapport with one paper, you can use it to slander the other explorer(s). Get good land, and exploit it well, get nice things. Take a risky play on the black market that pans out? Free money, awwh yiss!
Thing is, a lot of this is, effectively, a black box, even on Easy. You know what things do, and you know what the majority of checks are going to be on an expedition, but a lot of it boils down to taking a chance. And, for me, at least, it didn't really feel enjoyable. It looks good, with a simplified style that fits the period it's representing, some nice music, and a mostly clear UX with good tooltipping, but its humour fell flat for me, its embracing of its theme (historically accurate though it may be) didn't sit well with me, and playing it… Well, it didn't feel like I really knew what I was doing, even though I was staying afloat, and had a hotseat to fall back on to learn the game.
And that, in the end, is what killed my engagement with it. Still, maybe others will find enjoyment, and that's about the best I can personally say.
The Mad Welshman despises the bullshit the UK, among others has perpetuated over its history, not only in archaeology, but folklore, culture… A fair bit more than that, let's say, in understated British fashion.